Roedean School
Founded in 1885 as one of the first girls boarding schools in the country, Roedean provides an excellent academic education for around 400 day, full and weekly boarding girls from 11 to 18 years. Its vision: looking outward, aiming high is inspired by its stunning 40-acre setting to the east of Brighton and its extensive campus with spectacular views across the English Channel.
Roedean Way
Brighton
East Sussex
BN2 5RQ

+44 (0)1273 667500
Contact school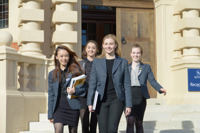 ---
Head's name: Mr Oliver Blond (Head)

ISC associations: HMC, GSA, AGBIS, ISBA
Religious affiliation: Church of England
Day/boarding type: Day, Weekly and Full boarding
Gender profile: Girls only

Size: 569
Roedean School fees:
Boarding fees per term:
£10,310 to £12,480
Day fees per term:
£5,320 to £6,955
Scholarships & bursaries:
Available
ISC reference number:
34302
DfE reference number:
846 / 6006
Girls - age range & pupil numbers:
Day: 11 to 19 (267)
Boarding: 11 to 19 (302)
Sixth form: (175)
View inspection report for this school
Scholarships for entry into Years 7, 9, and 12
At Roedean, scholarships are available to new entrants to the school in order to recognise academic excellence, and talent in areas of specialism. They are worth a fee-reduction which ranges from 5% to 40%, and all are awarded based on performance in the entrance tests, assessments if relevant, and interview. Applicants for scholarships for entry into the Sixth Form also sit a General Paper.
Academic Scholarships
Academic scholarships are awarded to academically able students, and assessment is on the basis of entrance tests (in English, Maths, and Non-Verbal Reasoning) and an interview.
Scholarships in Areas of Specialism
Scholarships are available in Art, Dance, Drama, Music, and Sport. For each of these scholarships, there is a practical assessment and an interview; ability and potential are taken into consideration as part of the awarding process.
Lawrence Scholarships
The Lawrence Scholarships are the most prestigious scholarships available at Roedean. They reflect the holistic ethos of the school, and they are therefore awarded to students who combine excellence in two areas of school life, such as academic excellence with that in one area of specialism, or in two areas of specialism (for example, in both Music and Art).
Key Dates for September 2018 entry
Registration deadline, all year groups – Tuesday 17 October 2017
Scholarship Application Deadline (Sixth Form) – Tuesday 17 October 2017
Discovery Day (Years 7 & 9) – Wednesday 8 November 2017 (including NVR testing)
Scholarship Application Deadline (Years 7 & 9) – Friday 17 November 2017
Practical Scholarship Assessments (Years 7 & 9) – w/c Monday 8 January 2018
Entrance Exams (Years 7 & 9) – Saturday 13 January 2018
Scholarship Interviews (Years 7 & 9) – w/c 22 January 2018
Scholarships & Bursaries offered
Academic scholarships
All Rounder awards
Art scholarships
Drama scholarships
Music scholarships
Sport scholarships
Clergy discounts
Sixth Form scholarships
H M Forces discounts
Sibling discounts
Bursaries for new entrants
Hardship awards for existing pupils
Contacts
Mrs Diana Banham
Senior Registrar
Email
Disclaimer:Data is provided by the school, ISC is not responsible for inaccuracies