ISC Meeting Room Booking
At our offices in Queen Anne's Gate, we have a meeting room available for free use to ISC associations and school members.
We are not currently taking meeting room bookings
We can seat up to a maximum of 18 people in the meeting room.
To book the meeting room please email jess.harling@isc.co.uk
Please include the following information:
Booking date and time
Number of attendees
Resources required: laptop/flip board/projector
Meeting room bookings include refreshments for guests of tea, coffee, water and biscuits.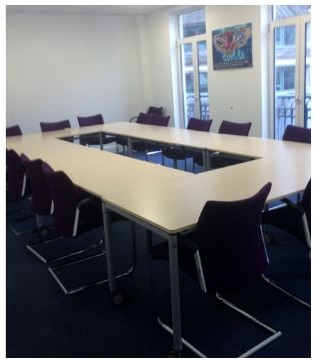 If lunch is required please order your own food, we will accept delivery and serve it at the desired time.
You may like to use one of these caterers:
Aldesco (This is the company we normally use)
Pret
Please order your lunch to be delivered to:
ISC, First Floor
27 Queen Anne's Gate
London
SW1H 9BU
ISC requires 2 business days notice to cancel a meeting room booking.
The meeting room facilities at ISC do not include a printer/photocopier. ISC is able to print small quantities of paper work if necessary but will charge a levy of 0.25p per page on for anything over 20 pages.