Bolton School Girls' Division
Academic excellence at one of the North's pre-eminent schools; outstanding facilities set in 32 acres of grounds and an outdoor pursuits centre in the Lake District. Strong extra-curricular and pastoral programmes. From Nursery to Sixth Form, there is an emphasis on developing the whole person in a caring and friendly environment. Full fee bursaries are available from age 11+.
Chorley New Road
Bolton
Greater Manchester
BL1 4PB

+44 (0)1204 840201
Contact school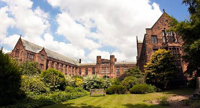 ---
Head's name: Miss Sue Hincks (Headmistress)

ISC associations: GSA
Religious affiliation: Non-denominational
Day/boarding type: Day
Gender profile: Girls (some boys)

Size: 1274
Bolton School Girls' Division fees:
Day fees per term:
£866 to £3,836
Scholarships & bursaries:
Available
ISC reference number:
11411
DfE reference number:
350 / 6015
Boys - age range & pupil numbers:
Day: 0 to 7 (173)
Girls - age range & pupil numbers:
Day: 0 to 19 (1101)
Sixth form: (203)
View inspection report for this school
Additional Information
Bolton School is an academically selective school to which entry is achieved through a competitive process and/or examination. There are within the school a small number of pupils with identified special educational needs and/or disabilities (SEND), such as mild dyslexia, dyspraxia, ADHD, hearing disability and limited sight.
In the Senior School, we may withdraw pupils with a specific learning difficulty from KS3/ 4 lessons for specialist teaching as well as endeavouring to cater for such pupils alongside their peers by adopting appropriate classroom practice. At KS5, specialist teaching takes place during a girl's non-contact time.
Scholarships & Bursaries offered
Academic scholarships
Bursaries for new entrants
Hardship awards for existing pupils
Disclaimer:Data is provided by the school, ISC is not responsible for inaccuracies