Bolton School Boys' Division
Academic excellence at one of the North's pre-eminent schools; outstanding facilities set in 32 acres of grounds and an outdoor pursuits centre in the Lake District. Strong extra-curricular and pastoral programmes. From Nursery to Sixth Form, there is an emphasis on developing the whole person in a caring and friendly environment. Full fee bursaries are available from age 11+.
Chorley New Road
Bolton
Greater Manchester
BL1 4PA

+44 (0)1204 840201
Contact school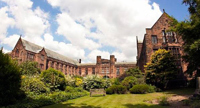 ---
Head's name: Mr Philip Britton (Headmaster)

ISC associations: HMC, AGBIS, ISBA
Religious affiliation: Non-denominational
Day/boarding type: Day
Gender profile: Boys only

Size: 1104
Bolton School Boys' Division fees:
Day fees per term:
£3,086 to £3,933
Scholarships & bursaries:
Available
ISC reference number:
67111
DfE reference number:
350 / 6014
Boys - age range & pupil numbers:
Day: 7 to 18 (1104)
Sixth form: (218)
View inspection report for this school
Additional Information
SEND AT Bolton School Boys' Division 
We support pupils with many different conditions, including ADHD, Asperger's Syndrome, dyslexia, dysgraphia, dyspraxia, visual and hearing impairments, working memory and processing problems. 
Pupils receive support from the learning support team in study skills and many different areas dependent on their needs, such as literacy support, emotional and social development, handwriting and typing interventions.
The pupils' teachers are aware of pupils' needs via the Pupil Plan to personalise the boys' learning experience.
Each pupil has a designated point of contact within the department who tracks their progress and reviews the Pupil Plan with the pupil in review meetings.
Boys who already have a diagnosis receive support on entrance exam days. 
We operate a screening test in Years 7 and 9 to identify a range of possible learning difficulties in the Senior School and ensure pupils' needs are met. 
EAL at Bolton School Boys' Division 
We have a number of pupils in school who have recently arrived from overseas and have English as an Additional Language.
Each pupil completes a language placement test prior to their arrival to enable us to provide necessary English language support to ensure the pupil has full access to the curriculum.
Pupils also attend a regular English discussion club run by the EAL Coordinator that is facilitated by Sixth Form native speaker pupils to develop EAL pupils' command of English.
We have several bilingual pupils at Bolton School – their aptitude for languages is celebrated at our Culture Club – the student body are able to benefit from the vast array of cultures, faiths and languages within our community.
Scholarships & Bursaries offered
Academic scholarships
Bursaries for new entrants
Hardship awards for existing pupils
Disclaimer:Data is provided by the school, ISC is not responsible for inaccuracies