Spotlight On: Maths partnerships at Bolton School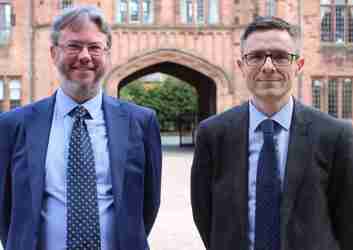 In a blog to mark National Numeracy Day, assistant head Jon Hitchin and maths teacher Stephen Wrigley explain how Bolton School's maths partnership programme has gone from strength to strength.
A long-established part of our partnership offering has seen teachers from our maths department visiting a local school, Lostock Primary, to deliver after-school enrichment classes to some of their most able Year 6 pupils. This has always been received enthusiastically by the children, who very much enjoyed exploring new areas of maths. Commenting on the initiative, Hannah Barnes-Gray, deputy headteacher at Lostock Primary, said: "Lostock pupils have had the opportunity to learn new skills. The feedback from the pupils has been that the sessions were really fun and have equipped them well in their preparation process for high school. The sessions go hand in hand with our teaching and learning ethos to help foster a love for maths and become lifelong learners."
The success of this relationship and the evident appetite for enrichment in this area of the curriculum was an obvious starting point for us, then, when it came to developing our outreach work. We were particularly keen to greatly extend the number of children that could benefit from this type of one-to-one work and soon linked up with four other interested local primary schools, with Lostock acting as the hub school.
In order to reach out to a wider range of local schools, and having sought views from those schools on the type of activity they would like to engage with, we then planned a maths competition. This was held here at Bolton School in December, and we were delighted to be joined by 18 local primary schools – each of whom brought a team of four children who competed against each other over four different rounds (during which we had Christmas music, Christmas crackers and lots of chocolate!) Our visitors were inquisitive, excitable, sparky, and loud - not to mention competitive! As word got round and other schools enquired, we repeated the event in February for a further 18 schools.
Wishing to develop those newly formed relationships with our local primaries further still, the success of the in-house maths competitions led to our third new project - the most exciting, perhaps, and certainly the most nerve-wracking! In January, we held our first online maths competition, which primary schools took part in from the comfort of their own classrooms via an online platform. The competition opened at 9:30am one Friday morning and schools had 30 minutes to answer as many of the questions posed to them as possible. Wondering whether or not the platform would work was somewhat stressful and so it was a great relief when answers started to come through. Later that day, it was fantastic to see social media lighting up with photos of children taking part in the competition, posted by their schools. The first online competition was such a great success, with 14 schools taking part, and so we repeated it in March. It has subsequently been established as a half-termly event and we expect it to continue to grow, with schools from all over the world potentially taking part; we have recently had interest from a school in Nigeria, for example.
St Peter's, a primary school in Farnworth, took part in both the in-house and online competitions. Their teacher, Kira Redmond, commented: "The children very much enjoyed working together as a team to tackle the challenges, rather than working through them on their own. The questions required different problem-solving skills, which encouraged the children to think deeply about their learning and link different strands of maths together."
The projects above are just some of the ways in which we have been engaging with local primary schools. Having developed those relationships, we wanted to see if there was anything we could offer that schools would particularly value, which can vary greatly from one school to the next. Examples of projects that have taken place as a result include orienteering in our school grounds with our specialist outdoor learning staff, lessons in our food technology and textiles departments (they were particularly happy to take the fruits of their labour home with them!) and an in-school science competition.
Some of our teachers are going out to local schools too: our classics department, for example, has been busy delivering lots of lessons on the Romans and Greek theatre and will have taught over a thousand local primary school children by the time we break for summer. Such is the demand for these lessons that Mrs Ball, one of our classics teachers, is now offering CPD for primary school teachers so that they can deliver lessons themselves.
Elsewhere, one of our history teachers led a lesson on the Tudors and one of our chemistry teachers delivered a session to a local school as part of National Science Week. In the near future, we expect to be launching projects linked to drama and psychology.
So far this year 55 schools have taken part in one activity or another; the children's willingness to rise to a challenge has been wonderful to see. Some of our own students have also got involved by leading activities or helping out. Not only have they thoroughly enjoyed it, but they have gained a lot from the experience, too. Working with so many primary school children and their staff this year has transformed our approach to our outreach activities, and we are excited to see how this develops further in the years to come.
Lots more information about all the events, together with photographs, can be found on our Twitter account: @BSGDoutreach