Spotlight On: Celebrating the arts through partnerships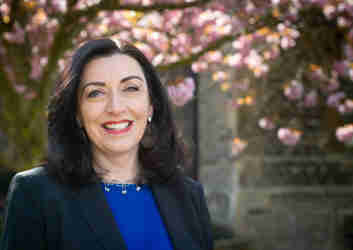 Helen Pike, master of Magdalen College School, reflects on the vital role that partnerships play in ensuring that all children can have access to a truly creative and fulfilling education.
Last week's news that the £90m which the Government earmarked in 2019 to support education in the arts had not materialised was met with dismay. Despite widespread recognition that culture has tremendous value in creating healthier, more reflective and engaged citizens, there is all too often a deficit when it comes to translating this knowledge into investment in education.
Into this vital space steps the work of many independent school partnerships, and Magdalen College School is in the vanguard of this. MCS is the lead sponsor of the Oxford Festival of the Arts which has as a perennial focus creativity among young people across Oxfordshire and beyond. This summer, for example, we put together 100 free activity bags for children to enjoy during the summer holidays. Designed with arts and creativity in mind, the bags hoped to lure children away from screens and out into the open air to stimulate creativity.
The bags were eminently covetable, containing a book courtesy of our colleagues at Blackwells in Oxford, poetry bookmarks to colour in, a set of felt tips, stained glass colouring templates, a mosaic kit, craft projects to make paper birds, a dreamcatcher and paper flowers, and some brain teaser puzzles. We distributed them via the Rosehill Community Larder, which we run in partnership, and the Blackbird Leys Larder.
Arts festival director Dr Michelle Castelletti said: "There is nothing more heart-warming than seeing children's enthusiasm and excitement as they open their bags of surprises and find things to create themselves. The festival continues to encourage and facilitate creativity in children. It is incumbent upon all arts organisations to do so. The arts make us a thousandfold richer."
Nigel Roberts, organiser at Blackbird Leys Larder, wrote: "The craft bags were fantastic and extremely well received by the members of our larder and it was lovely to see the young ones carrying out their bags."
What next for the arts at MCS and our thousands of partner pupils across Oxfordshire? This summer sees the world premiere of Birdland, a piece commissioned for primary school children by composer Bob Chilcott. The original idea had been to have thousands of children singing on School Field in the June open air during summer 2020; instead we are going to have the 'birds' from our partner primary schools in the dress circle of the Oxford Playhouse.
The opportunity to sing together in this way is an experience that pupils will not get anywhere else, and it takes years of planning, creative vision and some investment of cash too in order to be able to achieve it. Magdalen College School was in part founded as a choir school: to sing is in our soul. We are proud to share that inheritance with our partner schools.
Magdalen College School volunteers distributing goody bags to local community larder projects