Marcus Rashford has drawn attention to another way our sector can make a difference – school-run community larders
Helen Pike, master of Magdalen College School (MCS), reflects on how MCS partnerships project Rose Hill Community Larder has become a lifeline to families during the school holidays, and offers advice to the sector on setting up similar programmes.
What an interesting end to October it was for Marcus Rashford: three goals in 16 minutes in the Champions League, and over one million signatures on his petition to extend free school meals for those who need them. But the most extraordinary moment in all this was watching Rashford's Twitter timeline, as hundreds of organisations showed how they were doing their bit. From seaside café owners, who are basically looking at their third winter in twelve months, offering free fish and chips; to major chains partnering with local organisations – everyone wanted to help, and it was moving to witness.
Magdalen College School was proud to do its bit, too – and not just during half-term. The Rose Hill Community Larder is the result of a partnership with the SOFEA charity, founded by Richard Kennell who is a former pupil of MCS. SOFEA collects food from major supermarkets and seeks partner organisations to help distribute it fairly, which is where MCS comes in. We have a longstanding partnership with Rose Hill Primary School and now its community centre next door, plus dozens of willing pupil, staff and parent volunteers.
MCS is in OX4, which is one of the most deprived postcodes in the country. We work with over 12 state schools and 37 primary schools plus a number of community organisations, with a particular focus on our hubs in OX4 and OX3. We work to raise performance and aspiration, and this includes providing practical support.
Along with Rashford and many others, we recognised when we set up the Community Larder that people don't just need groceries in termtime. During lockdown, the larder continued to feed over 100 families every single week. This is what one of our regular members said during lockdown:
"Hi I'm Fran from Rose Hill, I come to the Community Larder each week, I have done since they began. Originally we were able to bring our children, play games, relax, meet new people, now we come and collect a box each week which is helping us extremely – you don't realise how much it is actually helping us and also helping the wider community.
Without SOFEA I don't know where we would be because this is like a lifeline for a lot of us including myself - it's really great, we get to meet new people … I can't wait to get back to normal so that my children can come and play the games and meet new people too."
As Fran says, a community larder is not a food bank, though many of its customers might use food banks, too: it's also a community hub. Before COVID, MCS sixth formers used to play with and read to our members' young children, and we can provide help with filling out joining forms for their parents. Everyone looks forward to those days returning.
The larder works on a subscription basis. Food is grouped into different categories, and anyone who is interested in reducing food waste can sign up to take advantage of its deals. This approach is also consonant with MCS's commitments to sustainability, with plastic bag use discouraged and members provided with a reusable tote bag.
As with all our partnerships, the MCS community benefits from our running the Rose Hill Community Larder in many ways. Our volunteers are drawn from sixth formers, staff, parents, and their wider families, and they are fiercely proud of the larder community. During lockdown, our development director's entire family came down to help. They didn't need to distance from each other, which made working with them a particular bonus! We can have two and even three generations of families volunteering, as you can see here: a member of staff, her son (one of our pupils) and her parents all came down to help.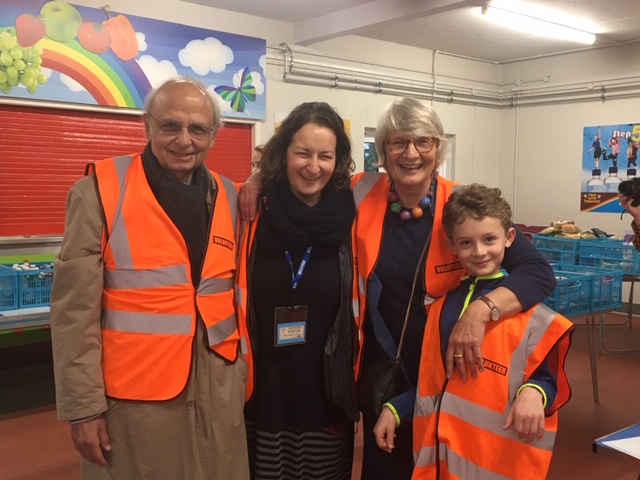 If any school is interested in setting up a community larder, the first step would be to find out to whom your local supermarkets hand on their excess or slightly damaged goods. Chances are there is already a charity ready to distribute that food, and if so, they might well leap at the chance to work with a school which has partnerships in its local community plus an army of keen volunteers. Unlike some, we don't need Marcus Rashford to remind us that this is the right thing to do - but I'm glad the extraordinary striker has drawn attention to another way in which our sector can work in partnership to make a difference.