St Michael's School
St. Michael's is a leading independent school, welcoming boys and girls from 3 to 18 years old, with boarding available from Year 7 through to Sixth Form. We combine great learning and excellent pastoral care as part of a well-rounded education. High academic standards are demonstrated by the results achieved in examinations. All pupils are encouraged to develop to their full potential, both academically and in the school's wide range of games and extra curricular activities.
Pen y Bryn
Bryn
Llanelli
Carmarthenshire
SA14 9TU

+44 (0)1554 820325
Contact school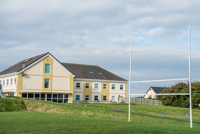 ---
Head's name: Mr Benson Ferrari (Headmaster)

ISC associations: ISA
Religious affiliation: Non-denominational
Day/boarding type: Day, Weekly and Full boarding
Gender profile: Coeducational

Size: 406
St Michael's School fees:
Boarding fees per term:
£6,800 to £8,667
Day fees per term:
£1,654 to £4,042
Scholarships & bursaries:
Available
ISC reference number:
27867
DfE reference number:
669 / 6003
Boys - age range & pupil numbers:
Day: 3 to 19 (180)
Boarding: 11 to 19 (33)
Sixth form: (55)
Girls - age range & pupil numbers:
Day: 3 to 19 (168)
Boarding: 11 to 19 (25)
Sixth form: (49)
Scholarships
St. Michael's School offers a range of scholarships, commencing in either Year 7, Year 10 or Year 12.
Awards for Year 7 are based on an academic assessment.
Awards for Year 10 are based on progress and attainment in Key Stage 3 (and are normally a continuation from a Year 7 scholarship).
Awards for Year 12 are based upon GCSE results.  
Sibling discounts are available throughout the Prep and Senior School.
Bursaries
All existing families are eligible to apply for Financial Support Bursaries, should they experience unexpected financial hardship.
Scholarships & Bursaries offered
Academic scholarships
Music scholarships
Sport scholarships
Sixth Form scholarships
Sibling discounts
Hardship awards for existing pupils
Disclaimer:Data is provided by the school, ISC is not responsible for inaccuracies