Glenalmond College
Glenalmond is one of Scotland's top boarding and day schools, situated in 300 acres of stunning Perthshire countryside. This rural location creates a caring and supportive community in which boys and girls thrive. Academic results are strong particularly in sciences, maths, art, music and languages. There are numerous opportunities in sport and other outdoor activities, as well as many musical, theatrical and artistic groups.
Glenalmond
Perth
Perthshire and Kinross
PH1 3RY

+44 (0)1738 842000
Contact school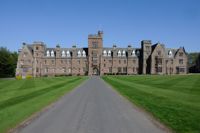 ---
Head's name: Ms Elaine Logan (Warden)

ISC associations: HMC, AGBIS, ISBA
Religious affiliation: Scottish Episcopal Church
Day/boarding type: Day and Full boarding
Gender profile: Coeducational

Size: 357
Glenalmond College fees:
Boarding fees per term:
£8,049 to £10,743
Day fees per term:
£5,490 to £7,318
Scholarships & bursaries:
Available
ISC reference number:
56561
DfE reference number:
538 / 1037
Boys - age range & pupil numbers:
Day: 12 to 18 (47)
Boarding: 12 to 18 (163)
Sixth form: (149)
Girls - age range & pupil numbers:
Day: 12 to 18 (29)
Boarding: 12 to 18 (118)
Sixth form: (95)
Additional Information
Glenalmond College is one of the UK's leading co-educational boarding schools, with an excellent record of academic achievement. 
Over 80% of pupils are boarders.  Most of our pupils are British:  only 25% are from outside the UK and only 7% are from outside Europe. 
All teachers live on campus and there is a full programme of activities each weekend.  School life is as busy at the weekend as it is during the week.
Every year, around half of Glenalmond pupils get places at Oxford, Cambridge and the Russell Group universities and almost all leavers get into their first choice of university.
Glenalmond College is located on a 300 acre countryside campus in Perthshire, Scotland, one hour's drive from Edinburgh/Glasgow airports, which are one hour's flight from London.  The campus has excellent academic, creative and sporting facilities, and is an inspiring environment for young people to learn and grow.
Scholarships & Bursaries offered
Academic scholarships
All Rounder awards
Art scholarships
Choral scholarships
Drama scholarships
Music scholarships
Sport scholarships
Clergy discounts
Sixth Form scholarships
H M Forces discounts
Sibling discounts
Bursaries for new entrants
Hardship awards for existing pupils
Disclaimer:Data is provided by the school, ISC is not responsible for inaccuracies