Ardingly College
Ardingly College is an independent co-educational boarding & day school which educates over 900 students. Located in the West Sussex countryside, between London and Brighton, the College nestles in a 230 acre campus comprising The Pre-Prep, The Prep , The Senior School and The Sixth Form. Though each is a separate entity, they offer a seamless education for children from 2 to 18 years of age.
College Road
Haywards Heath
West Sussex
RH17 6SQ

+44 (0)1444 893000
Contact school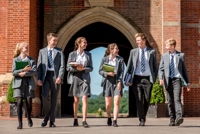 ---
Head's name: Mr Ben Figgis (Headmaster)

ISC associations: HMC, IAPS, AGBIS, ISBA
Religious affiliation: Church of England
Day/boarding type: Day, Weekly and Full boarding
Gender profile: Coeducational

Size: 942
Ardingly College fees:
Boarding fees per term:
£10,650 to £11,140
Day fees per term:
£2,900 to £7,870
Scholarships & bursaries:
Available
ISC reference number:
51217
DfE reference number:
938 / 6200
Boys - age range & pupil numbers:
Day: 2 to 18 (352)
Boarding: 7 to 18 (160)
Sixth form: (139)
Girls - age range & pupil numbers:
Day: 2 to 18 (294)
Boarding: 7 to 18 (136)
Sixth form: (115)
View inspection report for this school
Additional Information
No child excels at everything, but every child can excel at something.
We work with our children to discover their qualities and prepare them for their future beyond school.
Our students excel with strong academic choice of A Level or IB. Following an outstanding set of recent A Level and IB results of 88% A*- B and record-breaking GCSE results of 89% A*- B we are delighted to attract both top performers and also late bloomers who have a  strong work ethic and apply a good attitude to school. We work together to nurture both academic ability and outstanding life skills to build future success beyond school. 100% of our 2017 leavers seeking places at university were successful.
Pupils design their academic programme to suite their abilities and interests whilst studying core subjects of Maths, English and Science. In the Sixth Form there is a choice of A level or IB. There is a course of Independent Research and IT skills and an extensive enrichment programme is offered. 
Sport, music, art and drama feature highly in the lives of pupils at Ardingly College. We have a reputation for excelling on the football and hockey field and the music school recently celebrated winning the prestigious Woodard Young Musician of the Year. The art department encourages individuality whilst pupils are strongly encouraged to use drama to express themselves. 
We support every child to find balance and fulfilment, whilst developing the resilience to overcome any challenges. Each child is allocated to a house and our pastoral care provides several layers of support so that every child has professional adult support from their Housemaster or Housemistress as well as a personal tutor. 
Learning Support
The aim of the Learning Support Department is to support students where there is a need, and to provide an efficient, effective and well-monitored service for students, parents and the School in general.
We seek to identify those students who demonstrate a specific learning difficulty and/or disability and to make available the appropriate level of support from subject and specialist teachers. We monitor differentiation in the classroom (an approach to teaching that helps to ensure that all students learn well, despite their many learning differences), working closely with students to help them overcome the barriers that their difficulties present. In addition, we can offer small-group subject clinics, specialist one-to-one or small group lessons and help with study skills. Apart from teaching, one of our most important functions is to maintain a continuous liaison with all relevant staff together with parents and the students themselves.
Scholarships are available at 11+, 13+ and 16+.
Scholarships & Bursaries offered
Academic scholarships
All Rounder awards
Art scholarships
Choral scholarships
Design scholarships
Drama scholarships
Music scholarships
Science/Technology scholarships
Sport scholarships
Clergy discounts
Sixth Form scholarships
Sibling discounts
Bursaries for new entrants
Hardship awards for existing pupils
Disclaimer:Data is provided by the school, ISC is not responsible for inaccuracies