ACS Cobham International School
Fees: the fees printed below are PER SEMESTER (payable twice yearly) and not per term. Situated on a magnificent 128-acre campus, ACS Cobham provides both day and boarding education for around 1,400 children from 2 to 18 years of age. With students from over 70 nationalities the school provides a truly international environment where cultural differences are celebrated and global citizenship is promoted.
Heywood
Portsmouth Road
Cobham
Surrey
KT11 1BL

+44 (0)1932 867251
Contact school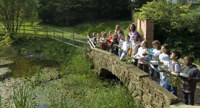 ---
Head's name: Mr Antony Eysele (Head)

ISC associations: ISA
Religious affiliation: Non-denominational
Day/boarding type: Day, Weekly and Full boarding
Gender profile: Coeducational

Size: 1406
ACS Cobham International School fees:
Boarding fees per term:
£12,270 to £14,786
Day fees per term:
£2,470 to £8,560
Scholarships & bursaries:
Available
ISC reference number:
44828
DfE reference number:
936 / 6529
Boys - age range & pupil numbers:
Day: 2 to 18 (715)
Boarding: 12 to 18 (66)
Sixth form: (178)
Girls - age range & pupil numbers:
Day: 2 to 18 (580)
Boarding: 12 to 18 (45)
Sixth form: (148)
View inspection report for this school
Details of the Bursary Programme for new entrants can be found at www.acs-schools.com/bursaries 
For the Scholarship Programme details can be found at:-  www.acs-schools.com/scholarships
For both schemes the cut off date is mid January for student enrolment in August. 
Scholarships & Bursaries offered
All Rounder awards
Sixth Form scholarships
Bursaries for new entrants
Hardship awards for existing pupils
Disclaimer:Data is provided by the school, ISC is not responsible for inaccuracies