Abbot's Hill School
Abbot's Hill is a happy, thriving and dynamic school offering an all-round education for girls aged 4-16 years. Our Day Nursery & Pre-School caters for girls and boys from 6 months. Our historic campus offers modern facilities in a magnificent country setting, situated in over 70 acres of beautiful parkland on the outskirts of Hemel Hempstead.
Bunkers Lane
Hemel Hempstead
Hertfordshire
HP3 8RP

+44 (0)1442 240 333
Contact school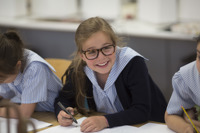 ---
Head's name: Mrs Elizabeth Thomas (Head Mistress)

ISC associations: GSA, AGBIS, ISBA
Religious affiliation: Christian
Day/boarding type: Day
Gender profile: Girls (some boys)

Size: 510
Abbot's Hill School fees:
Day fees per term:
£3,467 to £5,998
Scholarships & bursaries:
Available
ISC reference number:
81143
DfE reference number:
919 / 6000
Boys - age range & pupil numbers:
Day: 0 to 4 (20)
Girls - age range & pupil numbers:
Day: 0 to 16 (490)
View inspection report for this school
We are in the fortunate position to be able to offer a number of small scholarships to Year 7 entrants each year, if there are suitable candidates. Academic Scholarships and Specialist Scholarships in Art, Drama, Music or Sport are available.
Bursaries may be available for pupils applying particularly for entry to Year 7. In addition the Governors' Bursary Committee will occasionally consider Bursaries to enable girls to join the Prep School if funds permit.
In common with other fee paying schools, Bursaries are strictly means tested. It is usual for financial support to remain in place throughout a girl's time at the School, but each award is reviewed annually and adjusted in the light of any changes in financial circumstances.
Scholarships & Bursaries offered
Academic scholarships
All Rounder awards
Art scholarships
Choral scholarships
Drama scholarships
Music scholarships
Sport scholarships
Sibling discounts
Bursaries for new entrants
Hardship awards for existing pupils
Disclaimer:Data is provided by the school, ISC is not responsible for inaccuracies