Wilshaw is Mr Grace on a bad day; the berater-in-chief of schools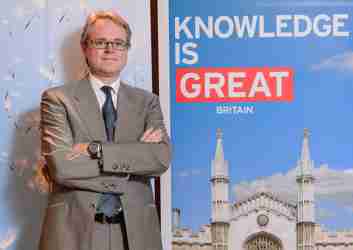 Matthew Burgess, ISC's general secretary, responds to Sir Michael Wilshaw's speech to HMC on 2 October
On the surface, no one should be very surprised by Sir Michael Wilshaw's intemperate outburst yesterday. A man who likes to create controversy, speaking at HMC's annual conference; a man who modestly likens himself to Clint Eastwood and Lord Kitchener (strange role-models); berater-in-chief of England's schools, echoing his political master; young Mr Grace on a bad day: "You're all not doing very well".
Music to the ears of the national press, ever keen for quotable controversy involving independent schools, and more grist to the mill of ideologues who oppose both the existence of schools outside the state-controlled sector and the right of parents to choose them.
Echoing the historical antecedent he reached for, his charge is ill-judged, misguided and over the top. Independent schools, he says, are failing in their duty to support the state sector through academy sponsorship; and partnerships short of sponsorship are mere crumbs. Let's unpick this.
First, many parents would find his starting point surprising. State education, after all, is wholly funded via taxpayer contributions. Is it right that state schools need to be supplemented via additional contributions in kind from the independent sector? Is the chief inspector of state schools implying that his schools are incapable of ensuring that pupils reach their potential without the input of independent schools? This would indeed be a startling proposition.
The answer to the question relies on looking beyond school structures to what lies beneath. Schools, state and independent, are staffed and led by teachers. And people go into teaching because they believe the value of education. Heads of independent schools are not a breed apart; they are the embodiment, not the antithesis, of a set of values that celebrates the talents and potential of children. And while the head of a school, state or independent, will always have a primary focus on pupils enrolled at his or her school, this is unlikely to be at the expense, or to the exclusion, of all other children.
While it may be putting the case too strongly to say that teachers at School X have a duty to help pupils at School Y, in practice a good partnership between the schools will result in benefits for all participating pupils (and teachers). Indeed, good partnerships will be both selfish and selfless, since benefits will accrue to all participants. As Ofsted – yes, Ofsted – noted in 2005 in relation to one particular partnership, "The sharing of facilities has been a two-way process. There is a widespread conception that independent schools are better equipped than their state counterparts, but this is not always the case. An independent school on the south coast, for example, was able to offer outstanding outdoor sports facilities, while its partner state school could offer outstanding indoor provision in return."
Wilshaw should note that this is a universal proposition: it is not dependent on whether the schools in question are state or independent, public or private, charitable or for-profit. As so often with uninformed comment, charitable status is a red herring.
So are some partnerships better than others? Unquestionably, yes – although identifying or classifying successful partnerships is remarkably difficult. Between 1997 and 2010, the Government backed a formal scheme of independent and state school partnerships with a small amount of seed funding. Over that time, we estimate that more than 350 partnerships were established, involving around 1,500 schools and countless thousands of pupils. Numerous external surveys were conducted of the scheme, including at least two by Ofsted. Wilshaw should read them – in 2005 Ofsted judged that the majority of partnerships were 'very effective'. Despite these positive findings, identifying success and hardwiring it into a blueprint for a "model" partnership was elusive.
Are ISC independent schools signed up for this agenda? Unquestionably, yes. Census after census reveals the scale of the interaction between the sectors, with the latest figures showing that more than 93 per cent of schools are engaged in partnership schemes. That's over 1,100 schools; if any one statistic can puncture Wilshaw's lazy stereotyping of our sector, this is it. As we said in a recent submission to the Education Select Committee on school partnerships, "The breadth and depth of involvement between the sectors is so great that it is hard not to resort to lists and case studies". No wonder that HMC heads were so furious yesterday.
But Wilshaw's real agenda is to chide independent schools to sponsor academies. Here he is maybe speaking more as the former head of Mossbourne Academy, rather than HM Chief Inspector of (all) state schools.
Again, the first response is maybe: why? Where is it stated, in these ancient charters that Wilshaw is keen to recall, that schools that exist outside the state-funded sector have a legal or even moral obligation to enter into a funding agreement with the secretary of state to support an academy or free school? Even assuming that charity law has something relevant to say in this context (hint: it does not), why is the sponsoring of an academy or free schools of greater public benefit than effective participation with local community schools or youth clubs?
Perhaps the most remarkable thing is not that almost 100 independent schools, their heads, bursars, senior management teams, teachers and support staff have found the time, energy and resources to become involved in the academy/free school programme as sponsors, co-sponsors or lead educational partners – but that it happens at all. And it happens in addition to both the partnership work, which is an unchanging feature of this educational landscape, and the growing provision of fee assistance for low-waged parents, currently standing at £300 million each year.