The world is moving East – time to teach Arabic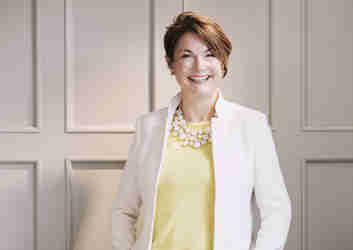 Suzie Longstaff, headmistress at Putney High School, argues that as the barriers to the global economy come down, the need for shared language is more crucial than ever in fostering understanding, successful trade negotiation and global security.
The world is getting smaller. Advances in digital technology have brought us all closer together, bridging boundaries and offering levels of opportunity that we have never known before. So, as the barriers to the global economy come down, the need for shared language is more crucial than ever in fostering understanding, successful trade negotiation, and even global security, isn't it? So how ironic that at this crucial time, concern should be growing over what has been called a 'crisis in the teaching of modern languages in British schools'; language experts warning of a chronic shortage of language skills among young people and new figures showing a decline in take-up at GCSE.

At Putney High School GDST we are delighted to be bucking the trend and from 2018, we will actually be expanding our Modern Language provision to add Arabic (the fourth most important language for job opportunities according to the British Council) and Italian, to an existing offering of French and Spanish, German and Mandarin. Spoken by over 400 million people, Arabic is one of the six official languages of the United Nations. It is a beautiful, rich and sophisticated language which allows us to explore the incredible wealth of art, literature and science of the Arab-Islamic civilisation, not just in translation, but as it was originally written. Challenging and rewarding in equal measure the study of this complex and poetic language brings not only enormous career advantages, but is a sheer joy as an end in itself.
Astonishingly, as investment and opportunity both move East, Arabic is currently being taught in less than 1% of British Schools, and there is no doubt that Mandarin Chinese, although now taught more widely, needs to be available in more schools. Certainly in the wake of Brexit, being monolingual in a multilingual world is no longer an option if we want our children to succeed in an increasingly competitive job market. Teaching these increasingly prominent languages is surely the first important step to be made in expanding our horizons, opening minds, and promoting a more global outlook in our young people.
There are more than 40 languages spoken in our senior school alone, and with large numbers of native speakers living in the local area we have for several years had a burgeoning bilingual programme to accompany our language curriculum provision. It has been proven that the learning of a foreign language brings enormous cognitive benefits so, unfashionable as Modern Language options may have become, schools must do more to halt this decline where they can.
Let's give this subject the focus it deserves and champion the specific and transferable skills that language learning has to offer. Languages are key to understanding the culture and history of other societies, and just as the study of history should inform the politics of the present, so the study of languages will be key to the peace and prosperity of all our futures. As the Arabic language boasts 11 words for "love", I can think of no better place to start.