The sixth formers who make E.coli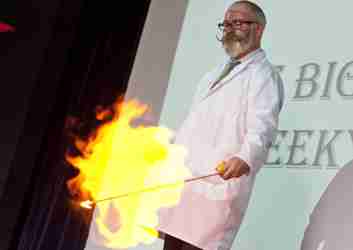 On an innovative new course, state school and independent pupils were given the chance to make E.coli, extract DNA from fruit flies and visit a dental hospital.
Dr David Kelly, Science teacher and course co-ordinator at Moreton Hall, reviews a unique collaboration between schools, universities and employers…
"Getting young people interested in STEM careers is a priority for government", says David Willetts, Science Minister. It is also a priority for our school - Shropshire based girls' school, Moreton Hall.
Last summer, 14 aspiring medics, vets, dentists and biological science students signed up for Moreton Hall's innovative ten day Bio-Medical Science training programme which took place at the school during August. It was proof that young people most definitely are interested in STEM careers.
Run in partnership with Keele University Medical School, the residential course was open to any boys and girls from throughout the world and two thirds of students were from local state schools and on substantial scholarships.
We want to open our doors to students from a variety of financial backgrounds by putting on courses like this and offering substantial scholarships and bursaries. If we can share our facilities and expertise to encourage more students to pursue valuable careers in the STEM subjects, we will have achieved a significant goal.
The course was designed for strong scientists who had just completed their AS Levels in Biology and Chemistry, looking to apply for highly competitive university places. It was both a boost to their final year A-level studies and an insight into university life.
In the lab there were lectures on molecular phylogeny, (the history of the evolution of a species or group), sugar chemistry, the study of acids, the structure of the genome, the difference between bacterial and non-bacterial genetics, gene regulation and molecular cloning technology, protein structure and factors effecting protein activity.
The students spent their days extracting DNA and proteins from bacteria and from fruit flies - learning how to size DNA molecules using molecular weight markers. They made chemically competent E.coli from overnight cultures and successfully transformed them with plasmid DNA they had extracted themselves. There was even a session on enzyme kinetics where they designed the experiment for instructions in the materials section of a published scientific paper.
All of the trips on offer were designed to offer insight into the different types of University experience available to students of the life sciences.
These included meeting Dr Melissa Grant at Birmingham University dental hospital school. Melissa runs a research group into preventing gum disease and she spoke of her own pathway to becoming an academic research leader. She also introduced the hospital's chief technician and two Ph.D. students who explained their career paths and the options open to them as they finished their higher degrees.
A tour of Brasenose College in Oxford, included a behind the scenes tour of Oxford's Natural History Museum, the aspirational Oxbridge lifestyle and a talk on making a confident application to excellent universities across the country.
A visit to the Keele Medical School provided insight into the world of the admissions officer, and how they make decisions on awarding interviews looking only at the UCAS form. The students met a variety of different professionals, including midwives, pharmacists, physiotherapists and dentists who described their career paths and explained the various routes into those careers.
These young scientists truly transformed over the course of the ten days. The high level of expertise offered by Moreton Hall was the perfect catalyst for an incredible growth in the students' confidence and in their determination to be the very best they can be. It's very satisfying to know they are returning to school with so much more certainty in their chosen career directions.
So successful was last year's course that we have extended it for August 2015, offering both Bio-med and STEM extension streams to the students. Again we are offering significant scholarships to ensure we attract a wide spectrum of applicants.