The importance of promoting the benefits of exercise in schools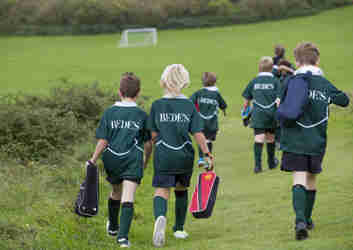 David Byrne, director of sport at Bede's, discusses how the school's sports programme supports pupils' physical, mental and emotional wellbeing.
Alongside the well-documented physical benefits of regular exercise, the link between an active lifestyle and positive mental health has been widely researched and discussed in recent years. Many experts cite the benefits of regular exercise for a range of mental health conditions, from depression and anxiety to ADHD and PTSD; for example, a recent study by the Harvard T.H. Chan School of Public Health found that running for 15 minutes a day or walking for an hour reduces the risk of major depression by 26%.
Regular exercise benefits everyone; regardless of your age, fitness level or chosen activity, you will feel happier, healthier, sleep better and experience reduced stress levels when you become more active – and even moderate levels of activity reap tangible rewards. However, with 50% of mental health problems established by the age of 14 years old and only 18% of children and young people meeting the current NHS sport and physical activity guidelines, are we doing enough to promote the benefits of exercise for its own sake in schools? The temptation with any sporting programme is to celebrate the wins, and as such there can be a tendency to focus less on those pupils who perhaps don't engage as much in competitive sports but benefit hugely from other forms of physical activity.
Although Bede's is of course very proud of the silverware in its cabinet, the School values a focus on participation even more highly. Our sports programme gives pupils the opportunity to enjoy and succeed in a wide range of physical activities, and ultimately encourages a love of sport for life – whether the aim is for a professional athletic career or simply a happy, healthy lifestyle.
As part of our drive to invest in pupil wellbeing, we have appointed a new sports development and life skills coach, former England and Women's World Cup winning cricketer, Sarah Taylor. As well as providing support for elite athletes and building performance and participation across all sports, Sarah will promote positive emotional and physical wellbeing in pupils, at all athletic levels.
Sarah explained that since retiring from international cricket, exercise has taken on new meaning for her, commenting "I run every morning without fail for two miles which sets me up for the day. When you exercise and challenge yourself, it makes a huge difference to your mental wellbeing. The important thing about my morning runs is that I'm not being told to do it or training with any goal in mind; I'm choosing to do this for myself. This message is at the heart of what I want to teach the pupils – they are playing sport because they love it, and they should ultimately work hard to achieve their dreams for themselves."
Bede's Prep launched its 'Sport for All' initiative at the beginning of the spring term, which sees all pupils in Years 3-8 get involved in a sports-focused co-curricular activity every Wednesday afternoon in addition to their dedicated PE lessons. Alongside competitive sports such as football, hockey and netball, pupils take part in kayaking, horse riding, tough mudder, climbing, crossfit, swimming and much more.
Although these options have been available for a while, this is the first time that an activity slot has been dedicated solely to physical activity, and this is already having a tremendous impact. The children involved in non-competitive sport get the same kudos and feeling of achievement as taking part in a fixture, and this feeds into their wider school life; they are more cognitively aware, more attentive in lessons, and in even happier spirits than usual. Pupils who were previously not engaged in competitive sport at all are genuinely enjoying physical activity, with many keen to get more involved in their PE lessons as their confidence has grown.
At Bede's Senior School, the co-curricular programme has been boosted in recent years with a range of activities requested by pupils, including parkour, skating, wakeboarding and a scuba diving PADI course (which results in a qualification). All of these activities are incredibly popular, as are a range of other non-competitive sports events such as indoor triathlons, duathlons, crossfit sessions and tough mudder.
Alongside this, our pupils can now get involved in the School's new Sports Ambassadors scheme, which sees pupils across the year groups take on active roles in the sport department. As per pupils' requests, the School's 3G astro pitches are opened up three evenings a week for supervised use, during which pupils play a variety of sports of their choosing in an informal setting. Free swim sessions have also been extended – again, opening up more opportunities for all pupils to get involved in our sports programme in different ways.
An active lifestyle is not limited to the pitch or activity time. Research has shown a direct correlation between positive mental health and altruism; the more we help others, the better we feel in ourselves. At Bede's, sport and fitness ties in with many fundraising events, from 24-hour football matches and danceathons organised by the school houses, to a range of non-competitive activities (including dog walks and yoga) offered on World Mental Health Day. The Bede's Prep annual 'Whole School Walk' across the South Downs regularly raises thousands of pounds for charity, while Bede's Senior School's 'Make a Difference Day' in June sees pupils volunteer in their local community by getting involved in everything from beach cleans and litter picks, to helping run a primary school sports day and caring for horses and riders at Riding for the Disabled.
Bede's has always been a believer in holistic education, actively giving pupils the opportunities, confidence and choice to be who they want to be. I am proud that we hold steadfastly to this ethos in our sports programme, and have seen our pupils' physical, emotional and mental wellbeing soar as a result, allowing them to enjoy life to its fullest at Bede's and beyond.