Spotlight On: UCS Hampstead's Nobel Laureate Lecture Series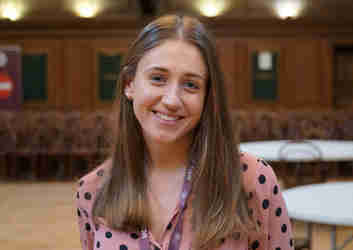 Sophie Bennett, assistant head (partnerships and public relations) at UCS Hampstead, explains how a new partnership event is promoting a love of STEM learning beyond the classroom.
In September 2021, UCS Hampstead held its inaugural Nobel Laureate Lecture Series. This partnership event was planned to honour the three Old Gower (UCS Alumni) Nobel Laureate Prize Winners and to foster a love of learning - and of STEM beyond the classroom and curriculum - for UCS and its partner school pupils. The event was a really exciting opportunity for pupils at UCS, Westminster Academy, UCL Academy, Michaela Community School and London Academy of Excellence, Stratford (LAE); schools with whom UCS has been collaborating for a number of years. A sixth form pupil from each school presented a talk on an area of science or mathematics that interests them.
The audience, made up of pupils from UCS and its partner schools, listened to their peers talk about the worlds of genetics, Diophantine equations, supersonic flight, antigenesis treatment and the fight against COVID-19. The speakers were outstanding ambassadors for their respective schools and also for young people in the world of STEM. They were followed by keynote speaker Dr Suzanne Imber, a renowned planetary scientist, who spoke about her current mission to Mercury and the future of solar system exploration. She was most recently awarded the Rosalind Franklin Medal for her contributions to planetary science, and in 2017 she was the winner of the BBC2 show 'Astronauts: Do You Have What It Takes?'.
Anisha, a pupil at LAE Stratford who presented on the effectiveness of antigenisis inhibition treatment for cancerous tumours, commented: "What I enjoyed most about presenting my research was hearing what people learnt from it. It was initially a challenge to simplify my topic, but it was so rewarding in the end to see that people both understood and enjoyed it."
Mohammed from Westminster Academy spoke about research into fighting COVID-19. He said: "When I arrived at UCS I was a bit nervous, it was my first time giving a scientific presentation in front of a large audience. Then when I met the other students that were presenting, everyone was really encouraging and had great ideas. It was a wonderful experience to present in front of STEM enthusiasts and a privilege to watch other students present their amazing ideas and work they have done."
The evening was organised by Amy Holland, the STEM partnerships and enrichment coordinator at UCS. Amy's role at UCS is to create opportunities for partnership projects between UCS and its partner schools, especially those which encourage pupils to work together. Amy is currently seconded to LAE one day a week teaching physics, and hosts weekly maths mentoring sessions for UCS Year 11 students to support local primary school pupils with their numeracy. Every November, Amy organises two university interview preparation evenings for UCS and partner school pupils applying for medicine or STEM Oxbridge courses.
Amy was delighted with the evening; "It was a pleasure to listen to young people talk so passionately about their subject area and to promote the world of STEM. Dr Imber was an outstanding role model and her talk about Mercury gave insight into collaborative research and the future for solar system exploration. It was most impressive to see a large audience come to support our speakers and explore the field of STEM further and I hope the evening was enjoyed by all." It is hoped that this inaugural event will be the first of a number of Nobel Laureate Lecture Series at UCS.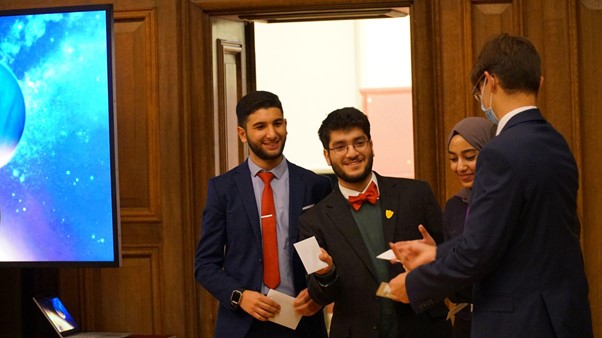 Pupil speakers celebrating at the conclusion of the evening.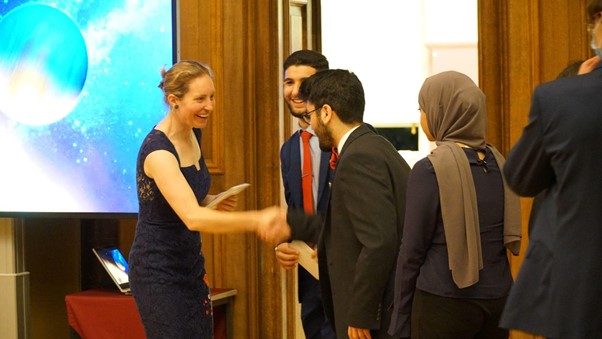 Pupil speakers being congratulated by Dr Suzanne Imber.