Spotlight On: The launch of Feltham College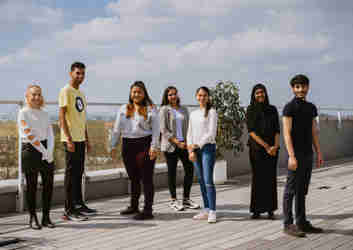 Two south west London independent schools, Hampton and Lady Eleanor Holles (LEH), have joined a state-maintained free school, Reach Academy, Feltham to launch a ground-breaking sixth form college.
This exciting and pioneering partnership aims to ensure that young people in the London Borough of Hounslow have access to the best in further education whether they wish to follow an academic or vocational pathway.
CEO at Reach, Ed Vainker, joins deputy heads Mark Nicholson and Amanda Poyner, from Hampton and LEH respectively, to explain how Feltham College evolved:
After three years of planning, we are delighted to announce that Feltham College will open its doors this time next year for students aged 16-18.
The young people of Feltham have much to offer, and while public examination results at Reach Academy are excellent, for a variety of reasons currently only 20% of 18-year-olds in the Feltham area move onto higher education. This compares to a national average of 80%, and over one-third of 16 to 24-year-olds in Hounslow have no qualifications at all, four times the London average.
Feltham College is a post-16 model designed to address this and offer local young people lives of choice and opportunity. In what we believe is a first, the college is based on a partnership of state and independent educators alongside leaders from the business and health sectors.
At the heart of that partnership is the relationship between Hampton, LEH and Reach Academy - a relationship which has grown organically over the past nine years. Starting with a focus on sharing enriching experiences for pupils, the relationship deepened when senior leaders from Hampton and LEH joined Reach's governing body and were able to explore in greater detail the role their colleagues could play. In recent years, both independent schools have provided weekly timetabled support for Reach's academic subject teams, alongside regular use of specialist facilities at their schools.
This mutually beneficial collaboration led us to create an innovative sixth form model focussed on meeting the needs of Feltham's young people. All three founding partners, with the wholehearted support of their governing bodies, are committed to a local sixth form college that is comprehensive and accessible. Feltham College will not select pupils by GCSE results. It will offer A-level courses alongside vocational qualifications in music, catering, and health and social care, with all courses having the same status and esteem.
Feltham College's academic courses will be supported by Hampton and LEH – building on the relationship of trust that has developed at all levels and ensuring that across the board, academic courses are highly effective and set pupils up for success.
Vocational courses at Feltham College will be similarly supported by thriving partnerships: Kingston University and East London Arts & Music Academy, Ashford and St Peter's Hospitals NHS Foundation Trust, and award-winning London restauranteur Jacob Kenedy will all provide valuable expertise and opportunities for the young people who attend the new college.
Our partnership's shared ambition is for Feltham College to be a centre of academic and vocational excellence at the heart of Feltham, playing a key role in rejuvenating a historically deprived area of the UK by offering transformative opportunities to the young people of Feltham.
Please watch our video or read our e-booklet to find out more.
If other independent schools within reasonable travelling distance of Feltham would be interested in becoming a partner in this exciting new initiative, we should be pleased to hear from you. If so, initial email contact can be made with Mark Nicholson (deputy head, Hampton School) m.nicholson@hamptonschool.org.uk