Spotlight On: Magdalen College School's Medical Society Partnership Programme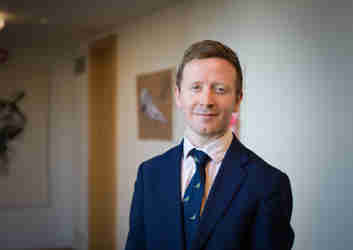 Dr Scott Crawford, deputy head (education development), explains how Magdalen College School's MedSoc programme has supported hundreds of sixth formers across Oxfordshire.
Magdalen College School (MCS) has considerable experience in preparing sixth form pupils for university and beyond. Each year, we see a high proportion of each cohort heading to Oxbridge and other elite universities in the UK and overseas. The relationships that we have established with local state secondary schools have allowed us to share our expertise in university admissions with a wider group of young people.
We have invested heavily in the development of an outstanding support programme for sixth form pupils considering a career in medicine and related disciplines. We employ a partnership co-ordinator in science and medicine and a medical admissions advisor, an experienced NHS medic involved in medical education. The programme is accessible to partner school pupils and in 2022-23, 17 Oxfordshire secondary schools were involved.
The programme features weekly seminars from visiting medics to provide foundational instruction on medical ethics and issues in contemporary medicine. Support is also provided to help young people secure work experience and voluntary work. The majority of the 50-60 pupils attending each week come from our local partner secondary schools in and around Oxford.
This is supplemented with sessions focused on preparation for aptitude assessments, including the BioMedical Admissions Test (BMAT) and University Clinical Aptitude Test (UCAT). We provide detailed help from specialist mentors with the writing of personal statements and the UCAS application process more generally. Mock panel interviews and separate Oxbridge-style interviews are offered each year. We also host an annual Careers in Medicine conference, featuring inspirational talks from a wide range of healthcare professionals. Many of the speakers are MCS alumni and, significantly, previous MedSoc attendees from our partner schools.
"The fact that our early entry students have had the opportunity for others to take a look at and feed back on their personal statements as well as your trips, visits and MedSoc sessions, among others, has been invaluable. We are also very grateful to have also been offered potential future mock interviews with our students." - director of sixth form, partner secondary school
"Despite the inevitable competition for the same places at higher education institutions, MedSoc helped form a community of people with a shared goal, providing a support network for revision, testing periods and the wait for decisions from universities." – Tahmid, MCS sixth form pupil
"I am truly very appreciative and it was amazing to have your help with so many things and receive your invaluable advice regarding my personal statement and my (many) questions. The interview practice was also extremely beneficial and I am so grateful to have had it be arranged for me." – Izzy, sixth form pupil from a partner school
"Working in partnership with community schools has enabled us to offer their students opportunities and benefit from forging excellent relationships. Sharing our resources has helped to widen participation in higher education and it has been wonderful to welcome back alumni from other schools to MCS. We aim to create a sustainable and mutually beneficial programme in which young people from diverse backgrounds with enormous potential are able to achieve their goals." – Hayley Parry, MCS partnership co-ordinator in science and medicine
We hope that our Medics Programme will continue to grow and that an even wider range of Oxfordshire schools get involved, perhaps aided by our ability to broadcast content online. More broadly, we would be delighted to share our approach with any school keen to develop a similar partnership programme. Medicine is undeniably a very challenging career, but it offers a sense of personal satisfaction and fulfilment that is uniquely rewarding. Our contribution to nurturing the next generation of medics is both a privilege and a pleasure.