Spotlight On: Food Bank Friday at The Roche School
Lydia Loxton, a Year One teacher and charities coordinator at The Roche School, explains how a partnership between the school and a volunteer network has been supporting those in need in the local community.
One charities meeting back in September 2020, my headteacher, Mrs Adams, said that she really wanted to set something up in school to help the poor and vulnerable in the local area of Wandsworth. She thought of the name 'Food Bank Friday', and asked me to come up with a plan.
Outside of school, I volunteer for an organisation called Dons Local Action Group (DLAG), which was initially formed in response to the COVID-19 crisis and is now permanent across Merton, Wandsworth and Kingston. I thought that Dons Local Action Group was the perfect network to link up with to get this project up and running, as while it is not a food bank, it focuses on supporting people in the local area.
We launched Food Bank Friday back in September 2020. We initially invited parents to bring in items to school on a biweekly basis, to see how much of a response we would get. The types of items we asked for included products such as nappies and bottles and dried foods like pasta and rice. We advertised this event through our school website and social media platforms (Twitter, Instagram and Facebook). Year 6 prefects were invited to design posters advertising the event, which were displayed around the school. I then arranged for a volunteer driver from Dons Local Action Group to collect all the donations biweekly and deliver them straight to the main hub in Wandsworth.
I was utterly overwhelmed by the response we got from families at the school. We had piles and piles of high-quality donations. Mrs Adams and I decided that it was worth running this project on a weekly basis. We continued to run Food Bank Friday until unfortunately schools had to shut due to the coronavirus. We will start Food Bank Friday up again when schools reopen on 8 March, and in the meantime, we're encouraging families to continue to donate items to their nearest DLAG collection point. What's lovely is that we now have a new volunteer for the organisation – a parent from The Roche School has signed up and does regular shifts!
This act of giving is a great way of teaching children about issues that may not necessarily be on the curriculum. It teaches children about compassion. The Roche School is an independent school, so our pupils are generally very privileged children - it's good for them to understand that there are some families who don't know where their next meal is coming from. As well as helping those who need it, the next generation is learning about the world around them, and is having fun doing so.
This direct approach means food doesn't expire in food bank storage, and people in need don't have to travel to one. At such a local level and relying solely on donations, Dons is amazingly organised, and you know your donation is going to the right place.
It's such a wonderful feeling knowing that, as a school, we have set something up that has had and will continue to have such a positive impact on the elderly, poor, homeless and vulnerable individuals and families in Wandsworth. Some recipients tell DLAG: "I wish I could hug you! I'm just so thankful for everything you've done!" "I want to thank you for your kindness and generous shopping. We very much appreciate it."
Xavier Wiggins, co-founder of DLAG, had the following message for The Roche School:
To all the pupils, teachers and parents at The Roche School, I just want to offer heartfelt thanks on behalf of Dons Local Action and, those we help, for all of your ongoing generosity. Your Friday contributions make a tangible difference to those in our communities who are in need. THANK YOU 💙💛
To find out more about Dons Local Action Group, visit https://donslocalaction.org/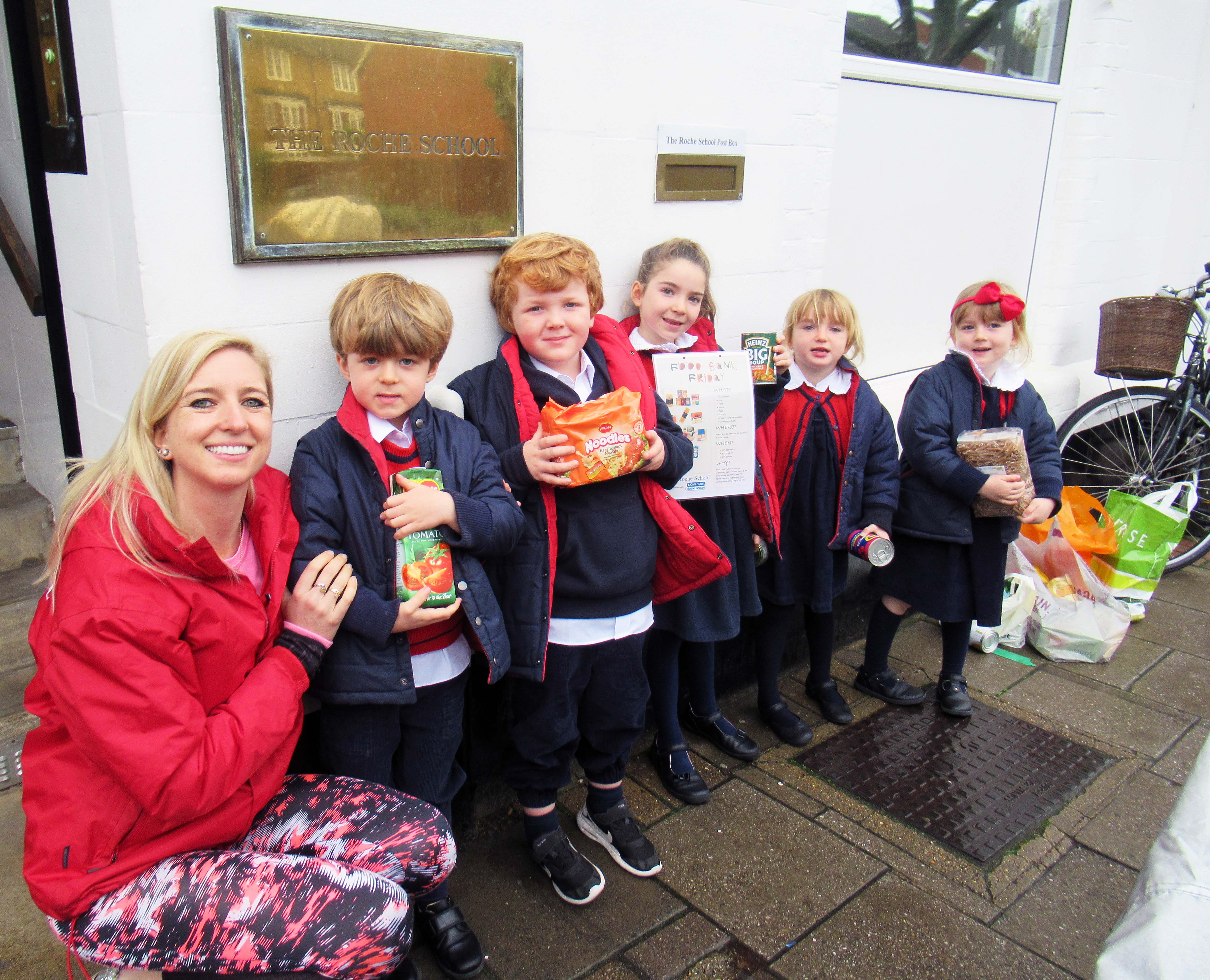 Lydia Loxton pictured with some of her students at The Roche School.