"Our overarching aim is to help pupils develop a lifelong love of physical activity and sport"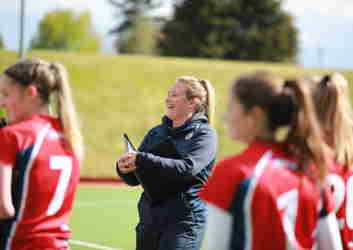 Pip Sanders, head of girls' sport at Pangbourne College, explains how the school is working to keep girls engaged in sport while ensuring all pupils have access to a broad range of activities suited to their interests.
Sport is a way of life at Pangbourne College. All pupils participate in games at least four times a week and take part in fixtures on Wednesday afternoons and Saturday mornings. Our focus is on participation and performance in equal parts, and our overarching aim is to help pupils develop a lifelong love of physical activity and sport.
We proactively engage with the female pupils to ensure that they stay interested and committed to sport, even if they don't consider themselves to be 'sporty people'. In response to their feedback, we have made changes to the sports kit so that they feel completely comfortable in what they wear on the sports field. Shorts of different lengths and leggings are now on offer, and are not branded with the school logo, so they can be worn off the pitch too.
We've worked hard to offer a range of sports which cater to many different interests. Football has been extremely popular since we launched it as an option this year, and girls participate in Year 7 and 8. We also have a girls' rugby team which recently took part in the Rosslyn Park National Schools Sevens.
We strongly encourage boys and girls to play sports together, and especially in the summer term, when cricket and tennis are our main sports, participants are mixed and teams are selected purely on merit, rather than gender.
In recent years we have noticed that from Year 11 there tends to be a drop-off in interest in girls' team sports. This has been exacerbated by the recent pandemic. To address this, we have combined the Year 11 and Sixth Form sport during afternoon games. This way, younger pupils enjoy mixing with their older peers and are encouraged to stay engaged in team sports.
Having said that, we also recognise that not all girls are going to be interested in team sports, so we have also introduced a broader range of activities for them to choose from, which includes pilates, yoga and outdoor gym sessions.
We are fortunate to have a number of female sports coaches who are enthusiastic about being positive role models for our pupils. In turn, our pupils enjoy opportunities to coach younger children from nearby prep and primary schools and we've recently hosted netball coaching afternoons, delivered by some of our Sports Scholars. In addition to this, there are opportunities for our pupils to coach the younger ones and we currently have a Year 10 girl coaching Year 7 and 8 football.
All in all, we are pleased with how these initiatives are keeping our girls interested in playing sport and helping them to reap the physical and mental benefits that come with it.