ISC Digital Strategy Cloud Standards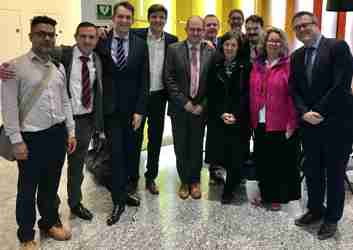 ISC Digital Strategy Cloud Standards Aims – 2nd Meeting – Microsoft Training Academy, Kingdom St, Paddington
Aim
Create a blueprint for landing and deploying MS and other technologies by
Producing a resource to share
Creating a change model
Decide on CTA – calls to action, across the sector. Produce conduits on ISC Digital Strategy website. Bring people together, share knowledge. Build knowledge and grow confidence/ expertise.

Microsoft wants to listen/ develop products/ understand how better we can be supported/ what are the challenges we face.
How do we use our knowledge to help others to get the best from the technology?
Attendees
Mrs S Williamson – Sevenoaks
Lucy Waide – Oundle school
Peter Othen – MCS oxford
Tim Mace – Queen Anne's School
Richard Hindley – Westminster
Andrew Storey – Dulwich
Vaughan Connolly – HabsBoys
Pratik Tailor – Radnor house
Mark Leporati – Radnor house
Rebecca Brooks – Marketing
Craig Parker – Microsoft
Sarah Hicks – Microsoft
Tina Jones – Microsoft
Ian Woolner – Microsoft
Nicola Meek – Microsoft
Jordan Lipman – Microsoft