"Independent schools believe sport and exercise are a fundamental part of a British education"
Mark S Steed, Director of JESS, Dubai, looks at independent schools' contribution to Team GB's Olympic medal haul, and says there is a different picture to this success than what is often presented.
Thirty per cent of Team GB medalists at Rio 2016 and 39% of the medalists at London 2012 were athletes educated in UK independent schools. Given the sector accounts for only 7% of the total school population, the headline figures, on face value, appear to be stark.

The media and politicians have seen the disproportionate contribution of independent schools as a continued cause for concern rather than of celebration. However, a detailed analysis of what lies behind these headlines reveals a very different picture to the one commonly presented.

Analysis of the statistics show that independent schools make their greatest contribution to Team GB in two areas: team sports and technical sports where the costs of providing facilities is very high.

Team sports
Team sports are a fundamental part of independent school life. Schools compete not only on academic grades but also on sports results. A healthy competitive rivalry between schools provides an impetus to raise standards and thus schools invest key resources (time, facilities, coaching and scholarships) in order to have top sports teams. Indeed, top schools have sports programmes which mirror those of the professional clubs, with whom they have established relationships.

These schools understandably attract top talent which drives a virtuous cycle of improvement as the school's sporting reputation increases. It should therefore be no surprise that 50% of the gold medal winning women's hockey team and 50% of the silver medal winning men's rugby sevens teams at Rio 2016 went to independent school.

Technical sports
Independent schools' greatest contribution to the medal count at the past two Olympics has come in rowing: eight gold and six silver medalists at Rio 2016; and six gold, four silver and eight bronze medalists at London 2012.

It should be no surprise (and certainly not a subject of criticism) that independent schools make a disproportionate contribution to certain technical sports, particularly rowing. Rowing does not lend itself to wider participation, both in terms of access (not everywhere has a navigable waterway) or facilities (rowing boats and don't come cheap). Although there are a handful of state schools which row, rowing has been the traditional domain of independent schools and the clubs. In fact, 24 out 42 rowers in Team GB at Rio 2016 came through the club route. Indeed, it would be surprising if the state, with limited resources, would make rowing a priority in schools at the expense of those areas where the cost of providing access to Olympic sports is better value.

State-sponsored sport
The state's targeted, almost Darwinian, investment in Olympic sports has undoubtedly paid dividends: Team GB has risen up the Olympic medal table from 38th in Atlanta 1996 (the last pre-lottery funding Games) to 10th in Sydney 2000 and Athens 2004, to 4th in Beijing 2008, to 3rd in London 2012, to 2nd in Rio 2016. But this investment in the elite has been concurrent with the well-documented widespread sale of school playing fields.

Elite sport has benefited, but grassroots has suffered.

If accusations of elitism are going to be banded around, the government needs to consider whether or not it has its own priorities right.

Building a healthy nation
This debate is far more important than a discussion about winning Olympic medals. Unless we foster good habits in our young people, we are in danger that this generation will be so obese that it will trigger a health crisis that will stretch nation's resources to breaking point. Schools, colleges and universities have an opportunity - and I believe a responsibility - to encourage young people to develop habits in relation to regular exercise that will stay with them for the rest of their lives. Independent schools take seriously this responsibility.

Independent schools believe sport and exercise are a fundamental part of a British education and they are willing to back up that belief with the resources that are required (time, facilities, coaching). There is here a model that the government would do well to replicate in the maintained sector.

Independent school medalists in London and Rio.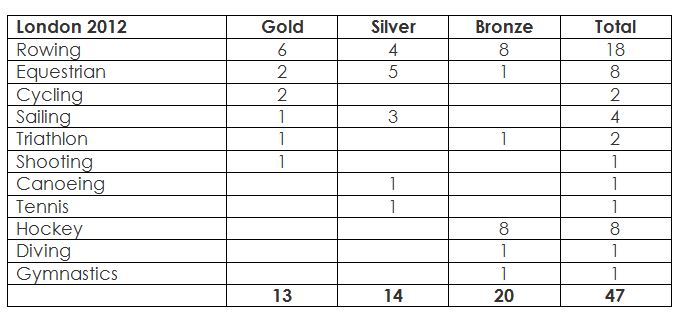 More detail of the independent School medallists in Rio can be found on Mark's blog.
You can also follow him on Twitter at @independenthead