'I want girls to see that cricket is not just for boys'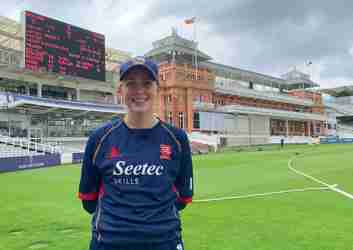 Matilda Callaghan, head of cricket at New Hall School, explains how various initiatives at the school are encouraging girls to participate in and enjoy cricket.
I joined New Hall School in September 2021 as the head of cricket for the Girls' and Boys' Divisions. When I first arrived, rounders was the priority sport for girls, even though there are few opportunities in rounders outside of school. I decided to introduce a girls' cricket academy and full fixture list for the female students. It is my intention for the girls to see that cricket is not just for boys and to understand how much women's cricket has grown and developed over the last few years.
It is exciting for our students to discover the opportunities that come with female cricket, and I have noticed the increase in enthusiasm from the students around the sport because of it. We introduced girls' cricket initially with one academy. This consisted of female students who had previously played boys' cricket at the school. To give these young ladies the chance to excel without feeling inhibited by playing with only male players is an amazing thing for the girls to experience and for the sports staff to observe. We had also noticed that the majority of girls dropped out of the sport between years 9 and 10, so it was fantastic to see girls who had previously stopped playing cricket joining again once there was a female-only team.
The students have benefitted hugely from the introduction of female cricket to the school. We have a few female students who have started to play for Essex, as well as those who are preparing to try for the county teams next year. We have accommodated the girls as much as possible so that they are not put off playing. For example, we have a new girls' cricket kit which consists of a school branded fitted top and tracksuit trousers. Some students had previously mentioned that one of the reasons they did not want to play cricket as they moved up the school was due to feeling self-conscious in the typical cricket 'pyjama-like' whites. Although I believe that we should not have to succumb to stereotypes of feeling insecure in typical cricket clothes, I understand the way teenage girls view themselves when growing up, so if it keeps them playing cricket then I believe that the new kit is a fantastic contributor to girls' self-esteem. After years of boys' cricket being the priority at New Hall, the introduction of a coloured kit for female cricket has seen the girls feeling extremely confident and pleased because in the Boys' Division of the Senior School, coloured kits are only for the first teams.
We encourage the girls to continue to train and play with the boys whenever possible for the social benefits, but they are overjoyed that they have a safe space to play cricket just between themselves. Eva, a pupil in Year 10, told me: "Although I still play the boys' cricket, I am so excited about a female team because it is a much more comfortable environment to play in."
A female head of cricket is something that the school specifically chose to encourage more young girls to play and enjoy cricket, and it provides the students with a role model, illustrating that you don't have to be male to play and be successful in this sport. In the developmental years at school, girls often feel put off from continuing with sports that are typically 'male' due to stereotypes and lack of encouragement, which is why here at New Hall we have taken these steps to encourage all young girls to remember that there is no such thing as a 'male' sport, and that anybody can play cricket if they try.