'Hope requires vision, purpose, and a belief in our own legitimacy'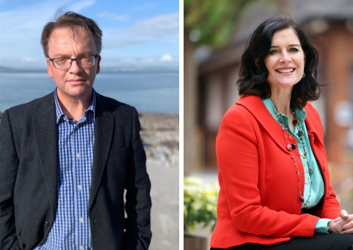 David James and Jane Lunnon, of Lady Eleanor Holles School and Alleyn's School, reflect on the effects of the pandemic and consider what lies ahead for independent schools.
In the introduction to the first edition of The State of Independence – published in 2019 – we shared a view that for many schools, "the next five years will be a defining period". What we could not possibly have predicted was that in under 12 months all schools in the United Kingdom (and many other parts of the world) would be closed because of the pandemic.
Schools, their pupils, staff and families were particularly affected by protracted and frequent lockdowns. For millions of young people around the world, the learning loss will never be made up. It is important in this context to keep the experiences of those who attended independent schools in perspective. Yes, there are clearly independent school pupils who were also put at significant risk because of lockdown. But the overwhelming majority of pupils who are privileged enough to attend some of the best schools in the world were sheltered from the worst consequences of lockdown for two reasons: firstly, they are from relatively affluent backgrounds, and secondly, they attend independent schools, which were better equipped to face the unique challenges the pandemic presented.
Inevitably, Covid-19 is a motif that runs through the new edition of our book. It is impossible to consider the recent past or speculate about the future without discussing the pandemic. But it is also too early to say what its lasting impact will be. Schools may be open, but disruption continues, and independent schools are feeling that disruption less than many other schools. Such things matter if independent schools are to attempt to become more open, more engaged, and more relevant to an ever-wider demographic. In other words, the good that was done in bad times needs to be extended to those who still need it with as much energy, goodwill and ingenuity as was exhibited at the height of the crisis.
But one very real threat to the sector is that it is so consumed with recovering from the pandemic that it forgets the many other challenges it faces – not least complacency and public disengagement. That would be potentially fatal. Seeing the future educational landscape as being shaped only by the pandemic would also be a mistake. There are also familiar difficulties that our schools will have to overcome if they are to survive.
Of course, some will not survive, and if one believes in the free market, then one has to accept that there will be casualties. Demographics change, economies fluctuate, and events sometimes conspire to make a business viable or no longer viable. The independent sector – because it is independent – is hugely varied, and will continue to be so; in this diversity, there is a great strength. Retaining variety without being consumed by political and social expediency will test all those who run these institutions.
It is indisputable that independent schools will continue to be buffeted by events beyond their control. In the past, those of us who work in independent schools have become inured to the many threats looming into view. No sooner does a politically extremist party appear promising to abolish the sector than it disappears for another generation. But the threats don't go away. The risks are still there, waiting just below the horizon, and the challenges continue to mount.
Too often, we have said that our independent schools have survived in the past and will do so in the future. This is an understandable position to take. But just because it was true in the past, does not mean it will always remain so. It may be that we feel we live in darker times than we did in 2020 and that we have all emerged from recent times a little less ebullient, a little less hopeful. Or it may be that the challenges we face now, although similar, have deepened, and become more complex than they were. How our schools respond now matters: not simply because if they get things wrong, they risk extreme difficulty, but because they are in temporary charge of young people who will go on to shape future societies.
If there is hope, it resides, as it always has done, in the hearts and minds of the young. For that hope to be realised, it requires vision, a renewed sense of purpose and a belief in our own legitimacy. Restoring that self-belief, which is something we so successfully inculcate in the pupils we teach, is perhaps the biggest challenge of all but it is one that independent schools have always been remarkably good at. We remain, on the whole, optimistic, and convinced that there will be a continued need for schools to exist outside the maintained sector. What they will look like in five or ten years' time, however, remains open to debate.
This is an edited extract from the introduction to The State of Independence, Second Edition (Routledge), edited by David James and Jane Lunnon.