Healthy eating at Sarum Hall School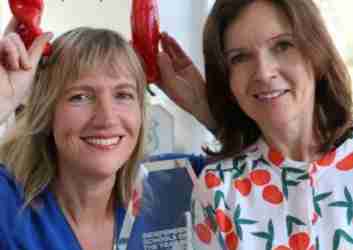 The food team at Sarum Hall School, winners of last year's Independent Schools Award for 'Best Independent School for Healthy Eating', explain how food education goes further than just providing healthy school lunches.
Lunch at Sarum Hall School includes a series of healthy choices; a wide choice of fruit and vegetables; meat-free days; and no refined sugars in the daily dessert choice. In fact, it's much like other independent schools. But healthy eating and a strong positive food ethos runs so much deeper at Sarum Hall School.
The school built its own 'Food Studio' in 2018 and through this state-of-the-art facility the school embeds a profound appreciation and understanding of food, its origins and the effect it has on the body.
The school's headteacher passionately believes entrenching a culture of healthy and responsible eating is imperative to a child's future relationship with food. Food education at Sarum Hall School is about nutrition, understanding responsible food production, mental and physical health, and sustainability. From nursery, girls are immersed in cross-curricular food education. There have been a number of initiatives which demonstrate the school's commitment to healthy eating:
1) Designing and inventing salads The girls of Year 4 were asked to design and invent their own salads in the Food Studio using the Eatwell Guide. They had a wide variety of ingredients to choose from which included seasonal vegetables, grains, beans and pulses, and this creativity was linked to book characters as part of their English studies. The judge was the school's head chef, and the winning salad (halloumi and butternut squash) was created en masse for the whole school. The project was so popular that it has now become a permanent monthly fixture, with new salads being created by individual girls for the whole school to enjoy.
2) Mini farmers markets The school has held three 'Food Fayres' where local businesses have been invited to take a stall at the school's own mini farmers markets. The school has concentrated on inviting independent entrepreneurial food businesses with a focus on sustainability. We have even sold our own produce created from fruits grown in the school's garden.
3) Operation Canapé Sarum Hall's maths teacher and food technology coordinator joined forces with 'Operation Canapé', a cross-curricular STEM project that involves girls researching the nutritional content and environmental impact of their ingredients, as well as managing their costs. The project culminated in a canapé party where the girls served their creations from the Food Studio to guests at the school.
4) Sharing our love of food with the community A recent initiative we have launched is 'Community Mondays', where local community groups and charities have been invited to use the Food Studio facility free of charge. Cookery sessions are soon to be held with Likewise (a North London mental health charity), The Winch (a local charity working with local young people in Camden) and Families for Peace (a charity supporting Ukrainian refugee families). The sessions underline the benefits of cooking and baking together to improve mental wellbeing.
Our school empowers children to make their own healthy choices, and by using the Food Studio as the ultimate cross-curricular educational tool, children leave Sarum Hall School with a wider understanding of why healthy eating is important, why we should eat responsibly, the ability to transfer practical skills across the curriculum, and that food overall should bring people together.
Miss Karen Coles, headmistress at Sarum Hall School, says:
"The benefits of healthy eating and enjoying food together are widely known, and we passionately believe that entrenching a culture of healthy and responsible eating is imperative to a child's future relationship with food. Food education at Sarum Hall School is not just about learning how to cook, but about nutrition, understanding responsible food production and sustainability. We are particularly thrilled to have won the Award in the healthy eating category – it is a wonderful way for us to celebrate our success as a school community."