Encouraging a better use of free time: setting children free from the chains of technology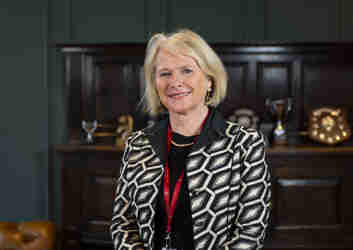 Linda Sanders, headmistress of The Laurels School, explains how mastering self-control can help children limit their time on digital devices and get the most out of the summer holidays.
School's out for the summer, which means as many as eight weeks away from the structure of a daily routine. Not many adults have that much time at their disposal, of course, but what about our children?
Before the holidays begin, I always ask our girls at The Laurels to think about how they will spend July and August. When I first started teaching, this meant cautioning pupils against spending too much time just lying around, without any focus. Simple times! Nowadays, it means talking to them about their use of social media, their time online, and addiction to mobile phones.
Surveys show that screen time increased markedly during the pandemic. Although this was probably inevitable, not least because many schools moved to teaching online, it has undoubtedly done nothing to lessen children's dependency on electronic devices - and let's face it, we were all concerned about this even before Covid-19. I see nothing to suggest this addiction has lessened in the months since the pandemic officially ended.
If you have a child who spends every waking hour maintaining a streak on TikTok, checking on their favourite celebrities on Instagram, or keeping up with whatever the craze of 2023 turns out to be, you will know the side-effects. Irritability, lack of genuine social interaction, poor sleep patterns and, of most concern, troubles with mental health. So – what can you, as parents, do?
Let's put this issue into context. Being addicted to a mobile phone means that we have become enslaved rather than masters of the technology and we have poor self-control. Self-mastery is a virtue (a good habit). If we look at people who have achieved in life, then self-control has played a part. Several years ago, it was announced that with 14,600 hours of practice, anyone could become a musical virtuoso. Never mind mastering an instrument, finding that amount of time to practise clearly shows self-mastery as well.
Here at The Laurels, we place virtues education (widely known as character education) at the heart of our ethos. An understanding of the virtues can be traced back to the ancient philosophers and we name our character education programme Arete, the pursuit of excellence (or virtue). Whatever your religious persuasion, if you have a sense of the spiritual dimension of humanity then you can identify with the idea of developing personal virtues to become the best version of oneself.
Your average teenager will have plenty to say if you suggest that rather than spending time on their phone, they could focus on becoming the next Nicola Benedetti instead, but there are some practical things that you can do to encourage a better use of free time.
• Firstly, phones and social media aren't going to go away. Acknowledge the benefits rather than imposing a blanket ban on their use.
• Share your concerns with your children. This may well mean having to acknowledge that you yourself spend rather too long scrolling - children notice these things!
• Discuss with them and be open to their suggestions. Sometimes they surprise us with their very sensible proposals.
• Help them to exercise the muscle of self-control as these devices are indeed highly addictive.
• Find worthwhile distractions. No matter how grumpy your teenagers are at suggestions of family outings, most quickly overcome their initial objections when faced with the novelty of fresh air.
• Encourage them to set personal goals for the summer. Is your child rewards-driven? Offer a prize for achievement. If they struggle without routine, help them to create a timetable for how they wish to spend their days.
• Have a conversation about why we all are so dependent on technology. Teenagers are well aware of the issues and may surprise you with their insight.
• Talk about the virtue of self-control. Here at The Laurels, we believe that virtues are taught as well as caught. Give examples of how you yourself have struggled with self-mastery, and the techniques you have acquired to help you. Example is key.
• Perhaps you can sit down together and establish some shared family goals or set yourselves the challenge of a technology-free day!
In my own conversations with our students, I find that when they do try to exercise self-control and recognise they need support from adults to help them manage their digital lives, they feel a real sense of liberation. So let's all think about how we can support our children this summer to cast off the chains of technology and help set them free!