Empathy Through Reading: Stream 2015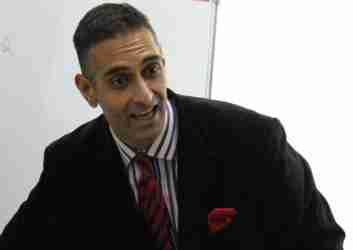 Dr Millan Sachania, Head Master at Streatham & Clapham High School GDST, discusses the importance of reading in light of the upcoming book festival at the school: 'STREAM'...
Maybe a writer shouldn't have read anything: I'm thinking of the well-known danger of deriving books from books instead of from life…On the other hand through other men's books you can live a hundred lives almost as digestible as your own.
—Edward Hyams
I begin most academic years with an assembly in which I go through the books I have read (or begun to read) during the summer holiday: Shakespeare's Richard II, Terhune's The Life of Edward Fitzgerald, John Julius Norwich's magnum opus on the Byzantine Empire, Harper Lee's Go Set a Watchman, criticisms of Vermeer and de Hooch, the latest exploits of Mma Ramotswe, a biography of the late and great Helen Suzman, Liza Jardine's examination of the 'Glorious Revolution', Hazlitt's essays – to name but a few this year.
It will not surprise, then, that I adhere to the orthodoxy that it is the duty of schools to promote and celebrate reading. Indeed, I believe they must be restless in their quest to devise new ways of doing so. For many schools (particularly those which are subject to the data-driven judgments of OFSTED), instrumental forces impel this endeavour. After all, the more widely read and literate a pupil is, arguably the greater the prospect of her or his attaining good qualifications and, in turn, of benefiting from the opportunities these bring. But specious institutions schools would be if they allowed such utilitarian drivers to be pre-eminent. An enlightened education, I would argue, enables young men and women to nurture an understanding of who they are as individuals, to hone a personal philosophy of living, to inculcate a sense of identity, to forge a notion of self, to fashion character. At the same time, it is essential that they complement burgeoning self-knowledge with a developing sense of empathy with others. This is why we – and our students – must read: contemplate the numberless experiences, constructs and world-views that inhabit even a moderately sized library with which we may connect.
I stepped from plank to plank
So slow and cautiously;
The stars about my head I felt,
About my feet the sea.

I knew not but the next
Would be my final inch,—
This gave me that precarious gait
Some call experience.
—Emily Dickinson
'Ultimately we read', pronounces the American literary critic Harold Bloom, 'in order to strengthen the self, and to learn its authentic interests'. Nicely put; but he is surely wrong when he goes on to say that 'the pleasures of reading indeed are selfish', and that no social good can ever come directly out of this pursuit. On the contrary. It is surely through reading we develop the key human quality of empathy. And empathy not only mediates our world-view with that of others but also enables the experiences, feelings and impulses of others to permeate our own selves, changing us forever in the process. It is through books that we may meet people and types of character that we may never encounter in our own lives, confront or appreciate world-views remote from our own, and navigate to new and unknown places – not just physical locations but unexplored regions of the human spirit. In a word, reading intensifies, enriches and augments our experience of life; and if this activity does not leaven our sense of empathy, then we are surely as estranged from the condition of being human as it is possible to be.
I thus responded with unbridled enthusiasm when my school's Marketing Manager, Allison Johnson, suggested that we instigate a children's book festival at Streatham & Clapham High School last year. It was an inspired idea. Open, free of charge, to the wider community, STREAM (as we christened it) took place on a Saturday in November 2014 and was launched by Malorie Blackman OBE, who was then the Children's Laureate. Those present will long remember the lively discussion she had with Guardian journalist Emily Drabble about the influences on her writing. Participants in the festival, the largest such celebration of literature in London last year, were to be found across nine venues, all hosting stimulating literary workshops by well-known children's authors tailored to the full spectrum of the age range. It was a remarkably successful and enjoyable day.
Streatham & Clapham High School has now decided to make STREAM an annual fixture; this year's STREAM 2015 takes place at the school on Saturday 7 November. Malorie Blackman, who has agreed to serve as the patron of the festival, has written this message to participants: 'Book festivals are like large family gatherings in that everyone involved has at least one thing in common – in this case, a love of stories. That is the special, instant connection between all those who attend. As I've said many times before, reading is the key that opens many of life's doors. Books and stories act as both doors and mirrors, allowing us to empathise, connect and communicate with others, as well as helping us to understand ourselves. The STREAM Book Festival is a wonderful way to celebrate that fact.' The habit of reading has to start young, and the way of drawing young people into the world of the written word is surely through expert, seductive and magical story-telling, through characterisations that are brilliantly sketched and narratives that have pace, direction and colour. It is a figment that all reading must be enjoyable; but unless one's early experiences are pleasurable the habit will never take root.
This year, STREAM will open with a workshop given by two masters of words and pictures: Children's Laureate Chris Riddell, who is as well known for his illustrations and political cartoons as he is for his authorship of children's books, and the legendary author, poet and performer Michael Rosen. The festival also features Francesca Simon (Horrid Henry); Steven Butler (The Diary of Dennis the Menace); an interactive Beast Quest show; author, broadcaster, classicist and former stand-up comic Natalie Haynes (The Ancient Guide to Modern Life); and author Sibéal Pounder (Witch Wars). There is much more besides. Following their success at the Edinburgh Festival, performance poet, author and illustrator Laura Dockrill and the author James Dawson will be presenting a session on 'Twisted Fairytales'. The publisher Barry Cunningham, who signed up J. K. Rowling and her Harry Potter series for Bloomsbury Children's Books, will be running a session for budding writers with authors from his publishing house, Chicken House. Illustrator Sarah Dennis will be offering a craft workshop based on her papercut-style activity book Animal Camouflage. Julian Sedgwick will be discussing Dark Satanic Mills and 'Why some novels need to be graphic'. Sophie Plowden, Head of Art at Notting Hill & Ealing High School GDST, will draw and paint while talking about her new book Jack Dash and the Magic Feather. Author and illustrator Jim Smith will provide a session on his Barry Loser series, and children attending the Phoenix Comics workshops will create their own cartoon characters and comic strips. Finally, comedian and author David Baddiel will close STREAM 2015 by inviting attendees into the world of his new book, The Person Controller.
I am certain that this year's festival will afford great pleasure to its participants. No single event can crowd into its compass everything that might inspire a life-long devotion to reading; but if STREAM yields just a fraction, it will have accomplished much good.
More details about STREAM 2015 are available here. All events are free of charge but online registration for individual events is strongly recommended, since each is subject to a maximum number of participants.