Collabetition, anyone?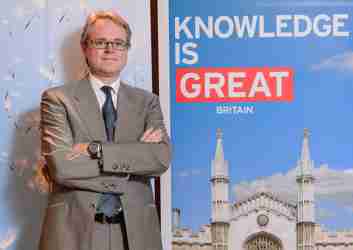 by Matthew Burgess - General Secretary, ISC.
The coverage of this month's Academies Commission report (Unleashing greatness: Getting the best from an academised system) is predictably polarised. There was a media emphasis on one of the findings – that some academies might be manipulating admissions to improve results (a "low road approach to school improvement"). There was an anti-academies response, trashing both the report and academies ("abject failure", "dreadful damage" etc). And there was more balanced acknowledgement, echoing the substantive message of the report, of both individual successes and raised expectations, together with a warning that that the "transformative potential" of academisation could not rest on academy status alone.
As one of the co-sponsors of the report notes, the scale and speed of the academies programme is dramatic: from 203 academies in May 2010 the total number had reached 2,456 by November 2012. The Academies Commission was asked to consider both the impact of the academies programme to date and what should happen when the majority of schools may be academies.
So what is the Commission's prescription for unleashing greatness? It's a formula that, for independent schools, will sound familiar: excellent teaching and school-to-school collaboration. And it's in relation to this latter requirement that the Commission, and some commentators, wrestle with the apparent tension brought about by the newly-minted independence of the state academies clashing with the desire to ensure that they remain effective partners in a national school system.
But there is no need to start with a blank sheet of paper, or even to come up with ugly new terminology – "collabetition"? "compaboration"? – to reconcile these tensions. Independent schools have been doing it for years.
Consider the King Edward VI Foundation, for example: founded in 1552, now educating almost 7,000 pupils across eight schools comprising two independents, five grammars and one academy.
Or the Southwark Schools' Learning Partnership, a project encompassing nine schools including three independents aimed at raising levels of students' engagement and achievements and providing professional development for staff.
Or the Dorchester Area Schools Partnership, comprising 19 schools including an independent prep school, with a mission to provide the best education for all the students who are educated in the Dorchester area. "Together we all able to offer a better provision for all the children in our local area", says the prep Head.
As the Commission notes, "schools work in a competitive environment and have done so for many years. It is not contradictory to argue for more powerful and effective collaboration to sit side by side with this. While there is a tension between collaboration and competition, it can also be an energising one."
These examples, of independent and state schools working together, not only provide templates for how a fully "academised" national system of education might reconcile competitive pressures with peer-to-peer support. They cast a novel light on a rather tired debate – the question of charitable status.
Across England and Wales there are now 84,000 charities with purposes to advance education. There are 3,000 academy trusts alone, each a charity. ISC independent schools represent a tiny minority of educational charities, and have received disproportionate attention by politicians, press and regulators alike. But what links all these school charities together is a set of shared characteristics: a commitment to improving the life chances of pupils not in isolation from society but in full partnership with it; the freedom to have ambitions not driven by shareholder returns; goals, in other words, infused with public benefit not private profit.
Matthew Burgess General Secretary, ISC
Post script: The Financial Times is reporting this week on the huge sums overpaid in error by the Department for Education to converting academies - £174m this year alone.
Compare this amount with the modest sums spent over a dozen years supporting independent/state school partnerships – estimated at around £14m, the scheme supported more than 330 schemes across 1,400 schools. The selection criteria for participation in ISSP required positive responses to the following questions:
Is it a genuine partnership, involving at least one independent and one maintained school, from which both partners can gain significantly, with pupils and teachers working together towards a mutual goal?
Is it a demonstration project, a workable example of how the two sectors can work together, capable, whether innovative or an extension of good practice, of being replicated anywhere in the country?
Will it engender further links, having the potential for expansion and involvement of other schools and organisations?
Will it add benefit to pupils locally, enriching educational opportunities for pupils, teachers and the wider community?
Does it provide good value for money, offering an excellent return, in the form of increased educational opportunities, on the investment made?
Five independent reports commissioned on the ISSP confirmed its effectiveness. And yet funding was pulled in 2010 with no new schemes commissioned since then. If the Government is committed to transformational change, resurrecting the ISSP would be one simple cost-effective step on that road.