Case Study: Digital Strategy Framework and Implementation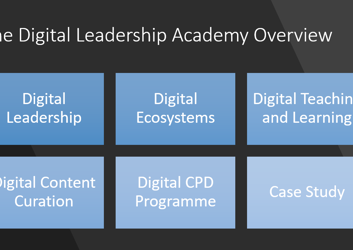 Like any whole school wide implementation, the digital strategy at Ashford School consists of the following framework, though not always linear in nature.
Digital Leadership – Vision: It is always important to start with the articulation of "Why. Why we are doing what we are doing and what is the purpose of it for our stakeholders: students, teachers and parents. The success of a digital strategy starts from the top. The vision for this must be clearly articulated and shared with all to create sustainable change in behaviour, instruction and day to day practices.
Digital Ecosystems – Streamlining of Systems: Your ecosystem is the IT and MIS environment, applications, devices and tools which supports your edtech strategy. Ultimately all components need to work seamlessly with one another. Less is more and an IT/MIS vision should be put into place. The most important outcome within this area is to ensure that users have easy access to their systems and their learning workflows without inhibition by the technology.
Digital Teaching and Learning Workflows – Pedagogical Integration: It is important to offer teachers the understanding of digital pedagogy using the TPACK (Matt-Koehler) and SAMR (Reuben). Teachers should look to have a good understanding of how technology can serve them best in the classroom in areas of content delivery, providing significant and real time feedback, marking and assessment and the creation of flipped learning methods. As teachers become more familiar with the technology, they can look to integrate tech into their pedagogical practices so that it becomes invisible to both them and the learners.
Digital Content Curation – In the Curriculum: With knowledge of the available and how best to pedagogically integrate technology into the classroom, a final step for effective use of technology is for teachers to create maximum impact within the curriculum. Binding the SAMR model and Bloom's Taxonomy together will help them understand the methods of how to seamlessly bring the technology into curriculum and create for more sustainable use of it within their teaching. Embedding the technology into the curriculum is a priority.
Digital Teacher Training Programme – CPD: If teachers can see the technology first hand and understand the theory of how it can be integrated into their teaching practices effectively, then there is a greater chance they will want to come to use it and integrate it within their own teaching experiences. The trick like anything is to connect with your audience and to understand what are their requirements before preparing your school wide teacher training strategy.
Dr Neelam Parmer, Director of E-Learning, Ashford School.
You can access Dr Neelam Parmar's presentation here from the ISC Digital Strategy Conference at Radley College in November 2018.