Building music popularity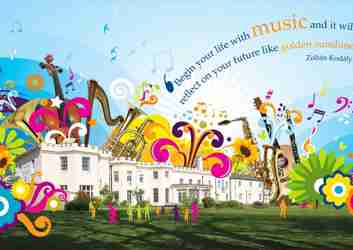 Julie Shaw, head of instrumental studies at Notre Dame School, argues the key to music popularity is making it accessible to everyone and at any level.
Since 2011 in my post of head of music (prep) at Notre Dame School, Cobham, I have spent my time encouraging a number of initiatives designed to increase interest in learning instruments and playing in ensembles, using a multifaceted approach. The results have been marvellous. Over the eight years we have seen an increase in the take-up of musical instruments in school from the national average of 33% to a whopping 80% of children in the prep school in 2016, and an increase in the number of musical ensembles and clubs from 5 to around 25. Entries for ABRSM exams have grown from an average of around 15 girls per session to 33 girls per session with an all-time high of 42 girls taking exams in summer 2018.
Information is power! The key to beginning an increase in music popularity is to first know what your baseline is. Every girl at Notre Dame Prep School has a music profile which is updated every term. Each girl is asked about her musical activities, whether she learns an instrument in or out of school, and records are kept of her exam successes and her participation in music ensembles or clubs. If a girl does not learn an instrument or is not involved in a club she is personally invited every term to take one up, and a letter sent home with an application form for her to begin according to her preference. Gradually the expectation is built that this is the norm for the school. The information gathered is used to invite children to join appropriate ensembles, tailored to their individual ability, making music a social activity and allowing girls to encourage each other.
In my first year at the school we opened up music clubs and ensembles to be run by the visiting music teachers and charged directly to the parents. This caused an immediate explosion in the number of clubs available, as visiting teachers took advantage of the opportunity to market their services. The school now boasts 20 regular music ensembles and clubs span the full breadth of available instruments. Particularly popular have been the Djembe Club and Samba Band, the Ukulele Clubs and a new Music Tech Club run in paired lessons. As often as possible these groups are given opportunities to combine with the larger string groups, wind groups and choirs to perform as larger ensembles in concerts.
A number of starter clubs now also run ad-hoc each year according to demand. Starter clubs have proved an enormously successful way of building up an instrumental teacher's timetable. The teacher comes into lessons to demonstrate the instrument to the pupils and let every pupil have a go. Invitations are sent home to pupils who show particular promise or high interest to join a free or cut-price club which runs for half a term. Usually around 50% of girls who join these clubs convert to paired lessons in the following term, with around 50% of these then continuing on to individual lessons on the instrument. This initiative has been so successful that we are now running waiting lists for lots of instruments. The flute numbers, for example, have built up using this method from just two pupils to a day-and-a-half of teaching.
Meanwhile interest in singing has been built up using a modified version of the Kodaly method in class. This method is based on singing as a natural and fundamental activity accessible to all. The method mirrors language teaching methods which teach language by immersion. As in a French class, where instructions are given in French, as far as possible as many regular classroom instructions and classroom management in music lessons are sung. These songs and the singing of the register give the girls frequent opportunities to sing unaccompanied both solo and with the group as a natural part of every lesson. Singing is therefore not treated only as a separate or special activity. Music is an active part of school worship and the girls are encouraged to see musical activity in general, but singing especially, as a potential opportunity for expression of love for God and each other. Communal singing is an essential part of this expression and girls are encouraged in regular hymn practice, assemblies, masses and other liturgical services to experience worship through singing as an activity that transcends the everyday. As a result of these efforts over the last eight years, nearly 100 girls are participating in choirs this year in the infant and junior departments, and the two Junior choirs have been invited the last two years running to open the Christian Resources Exhibition at Sandown Park, singing alongside Dana Rosemary Scallion and Marilyn Baker. This year 82 girls took part in this event.
Rejuvenating the look and feel of the department has been a key part of building popularity. In 2013 we refurbished our music room, introducing bright, modern colours such as hot pink and lime green, and opening up shelving to put all the instruments on display, be it beautiful djembe drums on hooks around the walls, or smaller percussion instruments in open grocers baskets on the shelves at a height the children can reach. Small touches, such as a guitar-rose clock, music notes handles on cupboard doors, electric guitar shaped CD racks, a treble clef door stop and bright music-design cushions have a big impact. Lastly, a huge poster board was designed for above the fireplace with our music logo and strapline, creating a brand for the department which is carried through into our brochures and information packs.
As popularity has grown we have been enabled to run a range of concert series which feed back into the growth of the department by putting the girls' talents on display. As well as the usual carol service, spring concert and musical theatre productions, we also now boast a complete Summer Soirée series, also run by our visiting teachers. Each teacher is responsible for their own concert for their own pupils and ensembles, which is hosted and advertised by the school, with catering and accompanying services laid on. Parents and the girls' friends love attending these concerts as it gives them a chance to see the teacher in action and meet them afterwards, and every pupil learning an instrument in school is given a chance to show what she has learned over the year. Meanwhile a class-based, fully inclusive and mixed ability series of 'Faith and Music' assemblies runs through the entire year, giving every pupil, whether she learns at home or in school, an informal opportunity to perform a piece of her choice in a low-pressure environment to the school and parents. The expectation that this opportunity creates encourages further instrumental take-up, and enables all girls in the school to see the range of instruments on offer, played by their friends. Lastly, in the summer term, an auditioned chamber music course is offered to Year 6, with every successful candidate given an independent part in a chamber group, culminating in the Year 6 Ceremony of Achievement performance, which also includes an auditioned Year 6 Chamber Choir. This aspirational course encourages all girls to join ensembles to gain the experience required to pass the audition and be offered a place. Also on offer for elite musicians is the gifted and talented group 'Music Maestros', which selects the best musicians from Years 3 to 6 and offers them extra weekly ensemble tuition.
The key to Music popularity at Notre Dame is that it is available to everyone at whatever level, and every budding musician is given opportunities, encouragement and praise. This could not be done without the amazing commitment and dedication of the Visiting Music Teachers team who are encouraged to be part of the Notre Dame family. The atmosphere in the department is one of generous inclusivity, with all contributions welcome, encouraging teachers and pupils alike to get stuck in. Care is taken to ensure the repertoire is individually tailored, relevant, varied and exciting, with enjoyment being the end goal. Musical experience in the Prep School is both grounded and spiritual, both individual and communal, and both personally tailored and all embracing.