'As students, we want to be more vocal about Black History Month'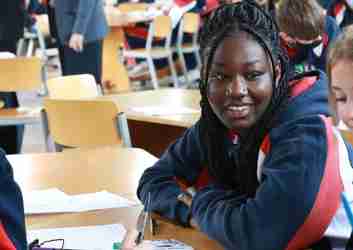 Cherise, a pupil at Pangbourne College, explains how the school community is celebrating the achievements of black people through a series of student-led projects and activities.
As Barack Obama once said: "Change will not come if we wait for some other person or some other time. We are the ones we've been waiting for. We are the change that we seek."
Black History Month, which takes place in October, has been celebrated in the UK for over 30 years. It's a month dedicated to acknowledging and celebrating the achievements of black people throughout history, because the truth is, so many black voices have been silenced for too long and it's time for black people to be recognised for their contributions to society. This celebration allows everyone to come together as a community and understand the importance of black culture and heritage which penetrates all areas of our society.
At Pangbourne, we have a Racial Inclusion and Diversity Working Party which helps students of colour come together and bring forth ideas to make Pangbourne a more inclusive and safer environment. In one of the meetings, it was decided that we needed to be more vocal about Black History Month and how it is celebrated.
As a result, we invited the heads of department to contribute their ideas on how to properly appreciate Black History Month and educate pupils on the importance of the event with completely student-led ideas and activities. Naturally, 'Team Pangbourne' rose to the challenge and I'm delighted to share some of the activities that will be taking place at the College throughout October.
In art, GCSE students will be looking at the work of Frank Bowling and Sonia Boyce who are British artists recognised for their abstract and inspirational work that has influenced art in many different ways to this day. Similarly, the DT department is covering theories on famous black architects and designers. They will be looking at the influence of different cultures from around the world in design, and how this has impacted predominantly white nations over the past few years.
In Year 11 business, pupils are learning about the social impact and influence of migration, including the Windrush Generation. This is such an important topic to learn because of how much it affected black people from the 1930s until now. Especially with the issue of Brexit and deportation becoming more and more prominent in the media, it's essential to remain educated on these issues throughout the world.
The drama department is holding evening screenings of performances of 'Barbershop Chronicles' by Inua Ellams, 'Small Island' by Andrea Levy & Helen Edmundson, and 'Can I Live?' by Fehinti Balogun, which looks at different perspectives of life as a black person in our society.
The history department is working on an inclusivity video that recognises the importance of the history each individual holds and the impact of understanding your own history and heritage. The sciences are studying powerful individuals who influenced science, such as CV Raman. They will also study a movie called 'Hidden figures', which is a film about African-American women who worked at NASA in the 1960s. It's based on the true story of the lives of Mary Jackson, Katherine G. Johnson, Dorothy Vaughan and a number of other black women who influenced science in many ways.
In computing, pupils are studying the lives of influential African-American computer science pioneers such as Booker T. Washington, Jake Johnson, Gwendolyn Brooks, Vivien Thomas, and many more. The geography department is studying cultural diversity and citizenship and how that impacts minorities across the globe. GCSE students are looking into the poverty of countries like Haiti and how it links to the slave trade and colonial debt.
Psychology classes are investigating the lack of cultural diversity in research and how this affects our understanding of psychology and issues around the diagnosis of mental illness for people from minorities.
The languages are covering a whole range of cultures and how they permeate all aspects of our lives, from famous black sports players to the celebration of Franco-African music and Spanish Cuban dance. The music department is studying black classical artists such as Joseph Bologne and is looking at the impact of black African culture in the USA through the slave trade, the rise of Minstrelsy, Ragtime, and the Blues.
In PE, GCSE pupils will be studying and researching some of the socio-cultural issues surrounding participation within physical activity and sport. A-level PE students will explore the 'Black Power Salute' and some of the socio-cultural impacts this has had on the future of the sport.
PSCHE and RS are looking at the history of the Black Lives Matter movement and studying the likes of Malcolm X. An ethics class will be writing an open letter to the examination body Edexcel, questioning the lack of black philosophers in their course.
As you can see, there is a lot going on in the Pangbourne curriculum that is being done to celebrate Black History Month and there is so much more in store, not just for this month but also in the future, to actively celebrate black people.
Now you may ask, why are we doing all of this? Well, when planning for this month, I quickly discovered that so many people didn't even know what Black History Month was, so educating and teaching people was a prominent reason for this movement. But the reality is, there are so many underappreciated black people in the world who have influenced every part of society which we aren't even aware of.
"My humanity is bound up in yours, for we can only be human together."
—Desmond Tutu.
Racism and discrimination has been going on for as long as we can remember, so Black History Month is about reclaiming the power black people have lost in as many ways as we can. It's time to make a change and this is just a small way to start.
So as we celebrate this month, remember what we are doing it for, remember the struggles people faced to get the world to where it is today, remember the importance of other people's cultures, understand what it means to love one another, treat each other with kindness and respect, believe in change and most importantly, learn to celebrate one another.
"One day our descendants will think it incredible that we paid so much attention to things like the amount of melanin in our skin or the shape of our eyes or our gender instead of the unique identities of each of us as complex human beings."
—Franklin Thomas, activist, philanthropist, and former president of the Ford Foundation